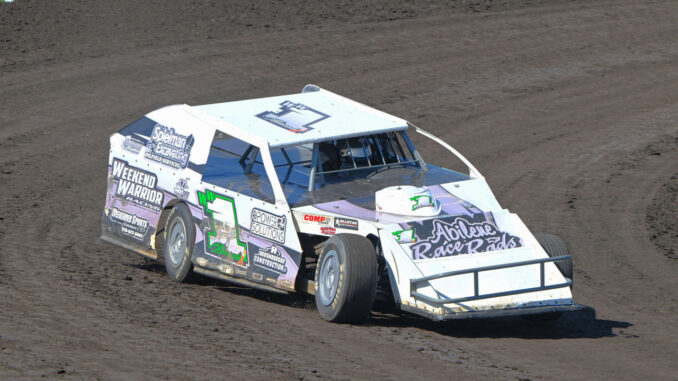 By Ben Deatherage
BOONE, Iowa (Sept. 4, 2022) – Among the many drivers returning to Boone Speedway for the 40th annual IMCA Speedway Motors Super Nationals fueled by Casey's is Friesen Performance IMCA Modified pilot Ricky Alvarado, who makes the trek from Delta, Colo. 
Alvarado is hoping to punch his ticket for Championship Night on Saturday. He ran on opening night of the the Wild Rose Casino Prelude at Boone and finished 11th.
"We struggled with the car at the Prelude but we found a bit of a problem with the pull bar," said Alvarado. "That made us feel a bit better that it happened then rather than during a qualifying feature."
Alvarado has raced his way into two Big Dances at Boone, exiting early in the 2012 show and then finishing ninth in 2017. He also has five Fast Shafts All-Star Invitational appearances and a Harris Auto Racing Race of Champions start to his Super Nationals credit.
Despite running a limited schedule this season, he has captured two wins. Those came at Sweetwater Speedway in Rock Springs, Wy., and at Marshalltown Speedway's Showdown at Motown just last Friday.
"We haven't raced a whole lot this year," said Alvarado, now the winner of 111 features in his IMCA Modified career. "We went up and ran the Dakota (Classic IMCA Modified) Tour and ran good, then came here. Other than that, we went to the show at Rock Springs, Wy. Everything we've traveled to has been good."
* * *
Texas teenager set to tackle Super Nationals in Northern SportMod
By Ben Deatherage
BOONE, Iowa – Mason Day comes to Boone Speedway knowing he has a tall order to fill at this year's IMCA Speedway Motors IMCA Super Nationals fueled by Casey's.
The 15-year-old from Farmersville, Texas teenager will square off against the best Friesen Performance IMCA Northern SportMods pilots in the land, many with a ton of experience in general and laps at Super Nationals and Boone Speedway in particular.
"My goal for this year is to go out and win the heat race and make the qualifier," said Day, who has most of his starts in this season in a Smiley's Racing Products Southern SportMod. "But if that doesn't happen, we are going to hit it as hard as we can from the 'B.'"
The rookie has one Southern SportMod victory to his credit, at Southern Oklahoma Speedway in Ardmore on Aug. 27. He did make a trip up to Boone Speedway on July 30 and finished 19th in the main event. The young man has five starts with the IMCA Northern SportMod division coming into the Labor Day Weekend.
"There are a lot of new driving styles and guys that are fast in this class, so we have to step up to our 'A' game to keep up with them," he said.
* * *
Super Nationals trip is first for Kansas racer Russell
By Ben Deatherage
BOONE, Iowa – One of the new-to-Boone Speedway drivers inhabiting the pit area at the 40th annual IMCA Speedway Motors Super Nationals fueled by Casey's is Brooke Russell.
The Montezuma, Kan., IMCA Sunoco Hobby Stock racer has never been to the event as a competitor or a fan. But the Lady Eagle contender is determined to have an enjoyable time at Iowa's Action Track.
"I've never been here before, so I'm pretty excited to compete," said Russell. "My expectations are to finish every race and hopefully move forward and not backward."
Russell has recorded nine top five finishes in 17 starts and has a season-best finish of second on June 4 at Dodge City Raceway Park.
"We normally run the Western Kansas tracks," she said, "but we do go to some other places in the state and even in Nebraska."
* * *
Pearce brings new piece to IMCA Super Nationals
By Ben Deatherage
BOONE, Iowa – Andrew Pearce is returning to this year's IMCA Speedway Motors Super Nationals fueled by Casey's looking to improve on his finish at last September's championship event.
The Oakley, Calif., teenager is no stranger to Boone Speedway as he made the long journey to the famed facility in 2021. He made the Northern SportMod Big Dance last year and is looking to build off those results.
"We got a brand new car for Super Nationals," said Pearce. "I hope we can win our heat race and move on to the qualifier. I'd be happy to make the show but if not, we will move on to the 'B' and see what we can do."
Pearce was 11th in last year's edition for the final night. The current season has seen the young man travel quite a bit grabbing three wins at three different race tracks in two states.
He has tasted success at Willamette Speedway in Lebanon, Ore., and at Coos Bay Speedway, also in the Beaver State. Pearce also has a victory at his home track of Antioch Speedway.
"This year has been pretty good. We've had a lot of seconds and top five finishes," he said. "I just came off of a win before we came out here. I hope we get some more because the season isn't over."
* * *
The Prelude and all six nights of the Sept. 5-10 Super Nationals are broadcast by IMCA.TV.