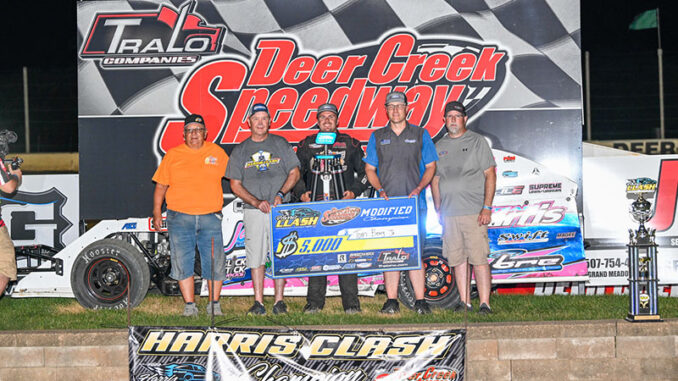 SPRING VALLEY, Minn. (Aug. 2, 2022) – The driver who said he's learned how to win races when everything isn't perfect came pretty close to perfection Tuesday night at Deer Creek Speedway. 
Tom Berry Jr. raced from ninth starting to win the 31st annual Harris Clash, taking the lead on the sixth circuit and checking out on the rest of the Friesen Performance IMCA Modified field in a fast-paced, caution-free 30 lap main event.
"It's pretty incredible to be doing what we're doing," Berry said following his 13th IMCA feature win of the season, and seventh since Austin Hemmen stepped into the crew chief role in early July. "We are just able to compete at a really high level."
He took home a check for $6,300, which included a $5,000 share of the purse, an $800 bonus from the TraLo Companies for advancing eight positions for the win and another $500 in manufacturers' cup money.
Two-time race winner Ethan Dotson was the hard charger, motoring from 16th at the start and taking over second on the last lap, finishing four and a half seconds off the pace.
Dakota Sproul, Richie Gustin, also a two-time Clash winner, and Cody Laney completed the top five. Modified drivers from 14 states vied at Spring Valley.
"This is a very prestigious race to win," Berry said. "There were a lot of good cars here tonight and it was a very good payday."
Russ Dickerson led the first four laps from the pole. Dakota Sproul led lap five, then saw Berry drive by on lap six.
Gustin ran second most of the way and chased Berry into traffic on lap 18. Berry continued to pull away as the race stayed green, leaving the race for second behind him.
Berry had been runner-up at the Clash in 2019 before racing to his "first big win" at Hancock County Speedway's Night of 10,000 Stars the following month.
The Tuesday night win was the career 60th in the division for IMCA's 2020 national champion. All 13 of Berry's feature wins this season, including six Dakota Classic Tour checkers, paid $1,000 or more and were Fast Shafts All-Star Invitational qualifying events.
"It's been unreal. The year's been unreal," he said. "We've won a lot of big races so far and we've still got a lot of big races to go. We're going to keep our heads down and keep working."
Alec Fett became the $2,500 Friesen Performance Northern SportMod winner after the post-race disqualification of Jared Boumeester for an illegal carburetor.
Fett had started 11th and restarted second following a caution on the 15th of 25 laps.
"We had a pretty strong car and were able to work our way up there," he said. "I always wanted to win the Harris Clash. It really means a lot. It's pretty cool to represent them. It's awesome."
Logan Anderson was the hard charger, starting 14th and ending in the runner-up spot. Cole Fenske, Izac Mallicoat and Kaylin Lopez ran 3-4-5.
And Joel Rust won the Wehrs Machine and Racing Products Modified Race of Champions and $1,000.
All six nights of the Hot Summer Nights Series Speedweek are broadcast by IMCA.TV. The Wednesday night installment sees IMCA Modifieds and IMCA Sunoco Stock Cars running for $1,000 to win at Alta, Iowa's Buena Vista Raceway.
IMCA Northern SportMods and IMCA Sunoco Hobby Stocks run for $500 to win, Mach-1 IMCA Sport Compacts for a $200 top prize. Racing follows 7 p.m. hot laps.
Feature Results
Modifieds – 1. Tom Berry Jr.; 2. Ethan Dotson; 3. Dakota Sproul; 4. Richie Gustin; 5. Cody Laney; 6. Brandon Beckendorf; 7. Kollin Hibdon; 8. Jake McBirnie; 9. Tim Ward; 10. Jesse Glenz; 11. Mike McKinney; 12. Cody Thompson; 13. Dylan Thornton; 14. Tripp Gaylord; 15. Russ Dickerson; 16. Jared Siefert; 17. Joel Rust; 18. Ryan Maitland; 19. Kelly Shryock; 20. Trent Loverude; 21. Aaron Johnson; 22. Kelsie Foley; 23. Cody Knecht; 24. Tanner Black; 25. Dylan Sherfick; 26. Matthew Day; 27. Clint Hatlestad; 28. Mike VanGenderen; 29. Mike Marlar; 30. Justin O'Brien; 31. Brandon Leeman.
Race of champions – 1. Joel Rust; 2. Jake McBirnie; 3. Cody Thompson; 4. Richie Gustin; 5. Kelly Shryock; 6. Ethan Dotson.
Northern SportMods – 1. Alec Fett; 2. Logan Anderson; 3. Cole Fenske; 4. Izac Mallicoat; 5. Kaylin Lopez; 6. Cole Suckow; 7. Dylan Waldvogel; 8. Brayton Carter; 9. Taylor Kuehl; 10. Cam Reimers; 11. Rocky Caudle; 12. Adam Bohlman; 13. Chase Alves; 14. Ryan Leeman; 15. Shelby Alves; 16. Chris VanMil; 17. Austin Stamm; 18. Camdan Vincent; 19. Jared Nytroe; 20. Colby Fett; 21. Mason Day; 22. Josh Appel; 23. Dylan VanWyk.