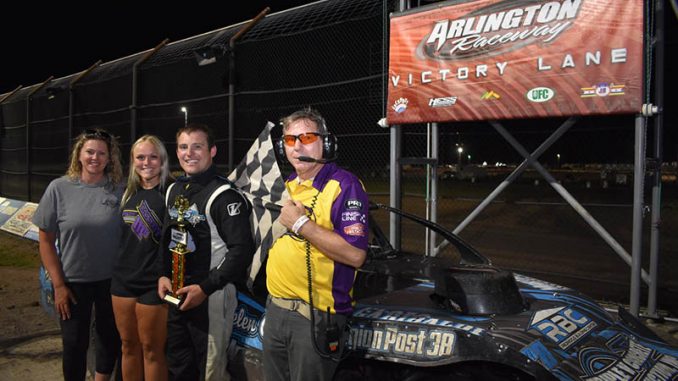 ARLINGTON, Minn. (July 9, 2022) – Dalton Magers found victory lane for the first time this season at Arlington Raceway Saturday night.
Magers took the Friesen Performance IMCA Modified lead on the sixth lap from Rick Schroeder and stayed in front for the duration in the flag-to-flag main event.
Chad Porter took second while Trent Loverude was third.
Payton Harazin led the IMCA Sunoco Hobby Stock field until the third lap when he encountered troubles and ended up in the pits. That handed the lead to Cory Probst. Chad Volk tried diligently to gain on Probst but ran out of time and settled for second.
Marschall Robinson led the first lap of the Mach-1 IMCA Sport Compact feature but soon Brett McConnell was side-by-side and managed to get by him to take over the race. McConnell then had to contend with Nate Coopman as the two battled for several laps, again maneuvering around lapped traffic. In the end, Coopman finished in first, McConnell in second and Alan Lahr took third.
The Friesen Performance IMCA Northern SportMod feature saw John Albrecht take the early lead and try to get a good amount of distance from the field,
By lap seven, however, Matt Looft had gained on him and by the next lap he got under him to inch ahead. The two cars raced one and two for several laps as Jared Boumeester, J.J. Reimers and Jeff Carter were all grouped together vying for third. In the end, Boumeester took third with Carter sneaking by Reimers on the last lap take 4th place.
The IMCA RaceSaver Sprint Car feature saw Brett Allen lead for three laps until Bill Johnson took over. Mike Stien got around Allen but ran out of laps and settled for runner-up pay as Johnson won his second feature in a row. Allen took third ahead of Trevor Serbus.
And for the third consecutive week, Curt Lund got to the front of the IMCA Sunoco Stock Car field from his 12th place start to win the race.
Early leader Luke Trebelhorn got a little too high going into turns three and four, which caused him to lose several positions. Ryan Bjerkeset took over as leader but encountered engine troubles which ended his race. Dan Mackenthun, who had started 10th, was the next leader and led for three laps but Lund overpowered him the remaining laps.
Mackenthun settled for second ahead of Matt Looft.