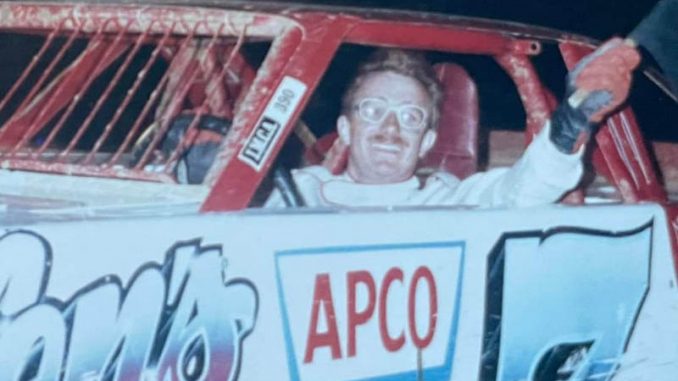 INDEPENDENCE, Iowa – Funeral services for long-time IMCA Late Model driver Greg Hunter are at 11 a.m. Thursday, July 14 at the White Funeral Home in Independence.
Hunter, 64, died Saturday, July 9 at the University of Iowa Hospitals and Clinics in Iowa City. The 1988 and 1992 track champion at hometown Independence Motor Speedway, he was a 20-time feature winner at Indee and still ranks in the top 10 in career wins for the division there. He and his father Leonard Hunter Sr. were both inducted into the Independence Motor Speedway Hall of Fame in 2018. 
Hunter was born on June 21, 1958, in Independence, the son of Leonard Romaine and Margaret Ellen (Coons) Hunter Sr.  He graduated from high school in Independence with the Class of 1976.  He and the former Jenny Lynn Rechkemmer were married on May 30, 1998 in Winthrop. They later divorced.  He worked as an assemblyman for John Deere in Waterloo for many years. He was a member of the U.A.W. Local #838. 
Survivors are two daughters, Tonya Hunter of Cumberland, Md., and Madelyn Hunter of Independence; two sons, Nicholas Hunter and Andrew Hunter, both of Ames; his father, Leonard Hunter Sr. of Independence; one brother, Michael (Diane) Hunter of Mesa, Ariz., and four sisters, Sharon (Wilbur) Main of Independence, Becky (Robert) Norris of Queen Creek, Ariz., Judy Ball of Ryan and Pam Monahan of Lakeland, Fla.
He was preceded in death by his mother, two brothers, Leonard Hunter Jr. and Gary Hunter, and one sister, Sandra Lappe.
Visitation will be from 4-7 p.m. on Wednesday, July 13 at the funeral home. Online condolences may be left at www.White-MtHope.com. White Funeral Home of Independence is in charge of arrangements.