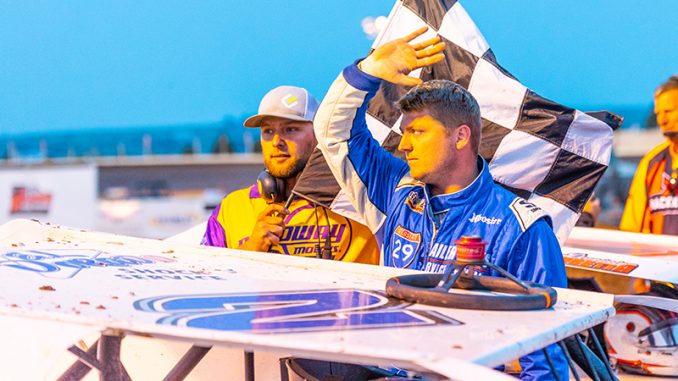 FARGO, N.D. (July 5, 2022) – Funeral services will be held July 7 for Casey Arneson.
Arneson, 27, died as a result of a UTV accident late Friday, July 1. The driver of the number 2 Modified and nicknamed The Flying Deuce, he'd begun racing with IMCA in 2018 and was the Jamestown Speedway track champion the following season.
Friends may call beginning at 10 a.m. Thursday with racing casual attire requested and services are at 11 a.m. at Hope Lutheran Church (South Campus). The service will be live streamed on the Boulger Funeral Home website for those unable to attend.
Burial will be at Sunset Memorial Gardens. A celebration of Casey's life will follow at The Race Shop at 15 S 14th Street in Fargo.
Survivors include his fiancée, Alison Goplen; parents, Dell (Virginia) Arneson and Jackie Arneson; brothers Cale (Jill) Arneson, Levi (Hannah) Arneson and Austin (Angela) Arneson; grandparents Bob and Joanne Arneson; nieces and nephews Kate, Cooper, June, Emmett, Leo and Walker; several aunts, uncles and cousins; and close friends.
In lieu of flowers, memorial contributions may be sent to the ND Outdoor Adventure Foundation via mail to 415 38th Street S in Fargo or online at https://give.usoaf.org/p/ndoaf; or to a meaningful charity of the donor's choice.