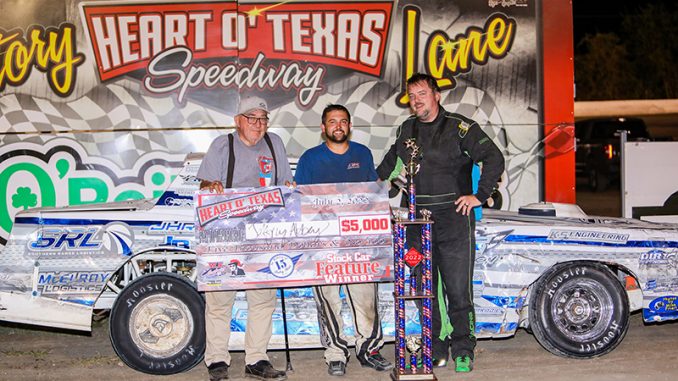 WACO, Texas (July 2, 2022) – What turned out to be a pretty good holiday weekend for Jeffrey Abbey started at Heart O' Texas Speedway's Baby Blue Harcrow Memorial.
Abbey led start to finish in Saturday's 25-lap IMCA Sunoco Stock Car main event and went home with a $5,000 share of the purse, plus a $2,500 share of the drivers' auction and lap money.
"I ran Heart O' Texas pretty regularly and won a lot of races in classes I've raced in there over the years," Abbey said following his eighth checkers of 2022. "I just protected the bottom and did everything I could to hold Jason (Batt) and Dustin (Mooney) off."
Abbey had won both his heat races and the qualifying feature on Friday night, then lined up outside Mooney on the front row in Saturday's big show.
He stayed in front through multiple restarts with the last yellow flying with four laps left.
Batt, the five-time and defending track champion at Waco, ran second from laps one through 24 and drove in deep his last time into turn three. Mooney made the most of that opportunity to get by, leaving Batt, Blake Clark and David Goode Jr. to complete the top five.
"The track was really good all weekend. It would have been great to win this race," said Batt, best of friends with Harcrow's son and seventh place finisher Markiss. "We got outrun by one of the best. Congratulations to Jeffrey."
The rich win guaranteed Abbey a starting spot in the B & B Racing Chassis All-Star Invitational.
Feature results – 1. Jeffrey Abbey; 2. Dustin Mooney; 3. Jason Batt; 4. Blake Clark; 5. David Goode Jr.; 6. Ryan Powers; 7. Markiss Harcrow; 8. Thomas Hall Jr.; 9. Doug Lorenz; 10. Darryl Campbell; 11. Thomas Hall; 12. Zach Terry; 13. Michael Wofford; 14. Raymond McSpadden; 15. G.W. Egbert IV; 16. Cameron Cook; 17. Westin Abbey; 18. Tim Clonch; 19. Lance Hanson Jr.; 20. Bryce Burden; 21. Dillon Smith; 22. Garrett Higgins; 23. Trevor Egbert; 24. Anthony Otken.