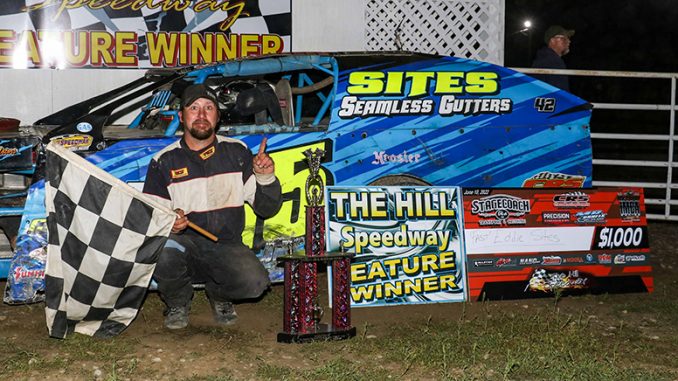 By Evan Canfield 
MONROETON, Pa. (June 10, 2022) – The first half of the 2022 season has been a roller coaster for Eddie Sites.
In February, his race shop burned down, leaving little for he and his brother, Brad, to start the season with. He kicked off the Close Racing Supply NY-Penn IMCA Modified Series presented by Precision Hydraulic & Oil season at Skyline Raceway Motorsports Park with a victory, then followed that up with a DNF at Penn Can Speedway after a parts failure.
But on Friday, June 10, Sites found himself back in the winner's circle at The Hill Speedway.
A season-high 18 Friesen Performance IMCA Modifieds signed in to do battle and the redraw set Ray McClure and Bill Nichols on the front row.
When the green flag waved to start the 25-lap feature, it would be very short-lived, as a multi-car pileup at the start/finish line would slow the race immediately. Once racing resumed, McClure jumped out to the lead, bringing Jared Spalding along behind him and Jacob McConnell close behind
The lead group wouldn't stay that way for long as Sites climbed quickly from his seventh starting position, making light work of McConnell and then Spalding. On lap four, he took his no. 15 machine to the top side to get around McClure and set sail with the lead.
A number of spins and contact slowed the race throughout the middle of the event. Sites continued to lead but not without a challenge from Spalding, who was making his first career start with the series.
After getting around McClure, Spalding did everything he could to get to the back bumper of Sites.
A five-car wreck on lap 18 was the biggest race changer, as defending series champion Brad Sites and Gary Lamphere got together battling just outside the top five, collecting Shawn Bruce, Jason Sullivan, and point leader Keith Jack Lamphere. Sullivan's night came to an end, leaving the rest to try to salvage some points for the night.
When racing resumed, Eddie Sites again left the field behind with Spalding chasing. McClure and Penn Can Speedway series winner Rodney Morgan applied heavy pressure for the podium position, swapping the third spot between the two of them in the closing laps.
When the checkered flag flew, it was Sites doing victory donuts on the backstretch with Spalding having a strong showing in second. The top five finished out with McClure holding off Morgan at the line, followed by hard charger J.W. Lamphere, who came from 18th.
The next event for the NY-Penn IMCA Modified Series will be at the Bloomsburg, Pa., Fair Speedway in on Sunday, June 19. One of the most highly anticipated races of the 2022 season, Bloomsburg was a fan and driver favorite last season and plans to be a big show again this year.
Feature results – 1. Eddie Sites; 2. Jared Spalding; 3. Ray McClure; 4. Rodney Morgan; 5. J.W. Lamphere; 6. Keith Jack Lamphere; 7. Jacob McConnell; 8. Matt Benjamin; 9. Shawn Bruce; 10. Aaron Benjamin; 11. Tyler Stoddard; 12. Carl Wood; 13. Gary Lamphere; 14. Brad Sites; 15. Jason Sullivan; 16. Harry Ely; 17. Bill Nichols; 18. Lance Conley.
Midosa USA Ltd Heat Winners were Eddie Sites, Shawn Bruce and Jared Spalding.
Force Flow Pressure Services Hard Charger was J.W. Lamphere, from 18th to fifth.
The PEM racing gears and drivetrain gear set went to Ray McClure.
Bob Harris Enterprises shock rebuild certificates were awarded to Eddie Sites and Keith Jack Lamphere.
Wilwood certificate recipients were Matt Benjamin and Aaron Benjamin.
The Allstar Performance $50 gift certificate went to Jacob McConnell. The closest to the number one pill $50 fuel bonus went to Tyler Stoddard (one); and the Spalding Performance worst draw $50 bonus went to Ray McClure (49).