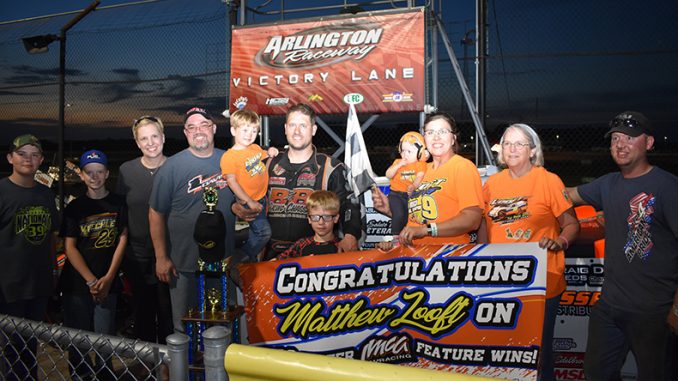 ARLINGTON, Minn. (May 28, 2022) – Matt Looft joined another of IMCA's most exclusive clubs Saturday night at Arlington Raceway. 
Looft won for the 200th time in his Friesen Performance IMCA Northern SportMod career, becoming just the 16th driver in the sanctioning body's modern era began in 1979 to achieve that feat.
"This wasn't something I ever expected to be able to do," the Swea City, Iowa, driver said the next day during a break from making ice cream for son's Brysen's fourth birthday party. "It took me like three years to get my first win in a 'B' mod. We've worked hard at this and I've had a good support system, which really helps. I've got a good car (a 2022 Skyrocket) and good tech support."
Now a four-time national champion in the division, Looft raced to his first Northern SportMod victory in 2010.
He's been in double figure wins every season since 2012 and comes off a career-best 27 checkers and his latest national title in 2021.
"Getting our 200th win was not something we were aiming for at the start of this season," said Looft, who reached the latest milestone with six wins in his first eight 2022 starts. "Usually we start off the season cold and then get better but it seems like we haven't lost anything from last year."
He became the all-time leader in the division with win number 159 in July of 2020. Also national champion in 2013, 2014 and 2018 and a six-time KMJ Performance State champ, Looft sets the bar for Northern SportMod drivers with 28 career track and another three special series crowns as well.
"Winning a national championship means you were at the top of the class for one year," he said. "Getting 200 wins means you've been doing it for a while and you've gotten a lot of good help. I could not have done this without the help of my family and a lot of good sponsors."
"When I started in a Northern SportMod, it was a good entry level class," he continued. "Technology has evolved but it's still an economical class, and the people I race with are all good drivers and getting better."
Looft will look to see how the season plays out before deciding to run for a fifth national crown. He and wife Brittney also have a son Brayden playing T-ball and a daughter Brynlee, who turns one in July, so there are a growing number of child-focused events on the family calendar.
The feature win he's looking forward to most now will come in an IMCA Sunoco Stock Car. Looft is in his rookie season in The Class Too Tough to Tame, driving the B & B Racing Chassis house car for friend Paul Burger.
"They're not anything like a SportMod," he said, "but they're super competitive and fun to drive."