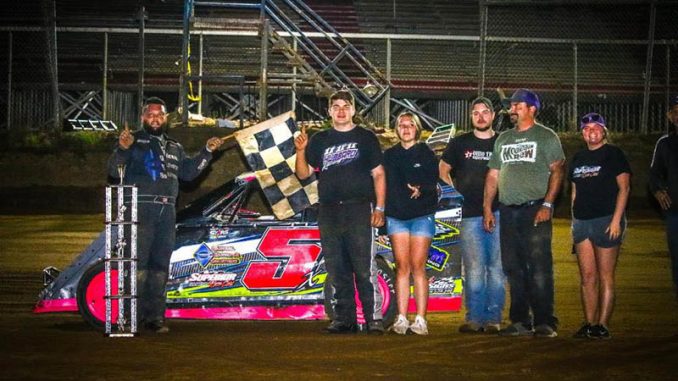 By Justin Newman
CENTERVILLE, Ark. (May 27, 2022) – Cody Benoit continued his winning ways this time, not in Florida, but in Arkansas at the Centerville Super Speedway. Benoit picked up the cool $1,000 payday amongst racing four of the top 10 in national IMCA STARS Mod Lite point standings in the first annual Prelude to the Madness. 
Benoit won his heat race but passing points had him starting on the outside of row two for the 20-lap main. Nashville, Ark.'s Jace Reid was on the pole and alongside him was the number 9 of Riley Clem from Bakersfield, Calif. Clem had to get a push start from the grid and would have started tailback but was never able to get it fired. That bumped up the outside row and Benoit was able to get out in front and paced the field.
Reid challenged early and pulled to the infield with fuel problems around lap nine and only two cautions marred the event. The hard charger was definitely Matthew Bauldwin from Little Rock as he drove from the last row starting spot and needed a caution to give him a shot but was able to snatch the runner-up finish.
Darrick Hubbard. Jr. was third and national STARS points leader Gary DeWitt from Mesa, Ariz., finished fourth. Moving up five spots to finish fifth was Paul McCollett. McCollet is driving the number 94PK in honor of his son Caleb, a Mod Lite driver who tragically lost his life last year.
Overall, 17 cars checked in to the event and all were expected to head south Saturday tonight, joined by a slew of others, to the qualifying night of the first annual Mod Lite Mayhem at Diamond Park Speedway.