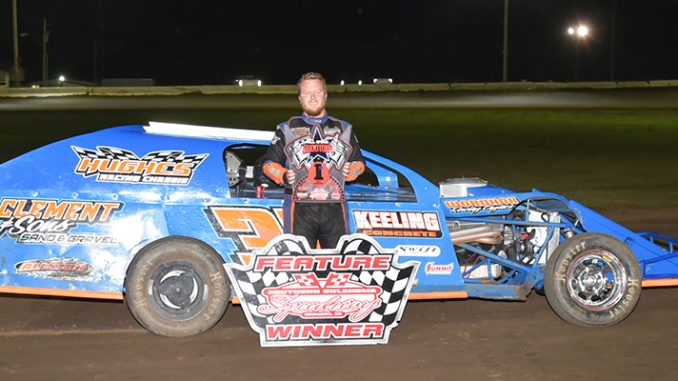 ARDMORE, Okla. (May 26, 2022) – A driver without a plan going into the opening night All Star Shootout feature for Friesen Performance IMCA Modifieds went home with $1,000 after it. 
Mitchell Clement took charge following a restart at halfway, then held off a late challenge from William Gould in winning the Thursday night headliner at Southern Oklahoma Speedway. Jacob Pirkle found the fast line coming to the checkers to edge Gould for second-place pay.
"I didn't know what the track was going to do. I didn't have a plan out there," Clement admitted after his first feature win of 2022. "I knew the 60 car (Gould) would be coming. He likes it when it's Baja hammer down like that."
"I was glad we could turn back under him coming out of turn four like that," added Clement, now eligible to qualify for the Fast Shafts All-Star Invitational.
Clement had passed Pirkle for the point 13 laps into the 25-lapper. Gould made his way from 10th starting and closed to a car length, throwing a slider at the leader on the final turn.
That bid came up short and Pirkle slipped past Gould, finishing less than half a second off the winning pace. Hard charger Chad Melton raced from 21st starting to fourth, Jared Baird from 18th on the initial grid to fifth.
Jeffrey Abbey and Rowdy Day were both $750 feature winners, Abbey by leading the last two laps of the IMCA Sunoco Stock Car main event and Day in a flag-to-flag run at the front of a Smiley's Racing Products IMCA Southern SportMod show that saw most of the excitement on the last turn.
Gould dominated the first 14 laps in the Stock Car feature before slowing and then heading to the pits on the first of two lap 15 restarts. Cody Williams inherited the lead, staying in front the next four times around the track before the 10th starting Abbey eked ahead.
Already B & B Racing Chassis All-Star Invitational qualifying eligible, Abbey then got the best of 23rd starting Tim Clonch and Williams in the sprint to the checkers. Arizona visitor Chris McCurdy Jr. was fourth.
Day ran second behind Chad Reid early in the SportMod main, took over up front on lap seven and then checked out on the field.
He was half a track ahead of runner-up Brandon Geurin before making last-turn contact with a lapped car but still won by a margin of better than 3-1/2 seconds.
"We're going to get it put back together," he promised after surveying the front end damage to his car, "and see if we can't keep the momentum going at Boyd."
Michael Dabney and Dean Abbey completed the top four.
Round two of the All Star Shootout at Boyd Raceway Friday night sees the pit gates and grandstand opening at 6 p.m. Hot laps precede racing at 8 p.m.
The All Star Shootout is at Kennedale Speedway Park on Saturday and at Heart O' Texas Speedway on Sunday.
All Shootout programs are broadcast by IMCA.TV.
Feature Results
Modifieds – 1. Mitchell Clement; 2. Jacob Pirkle; 3. William Gould; 4. Chad Melton; 5. Jared Baird; 6. Spencer Hartwick; 7. Steven Whiteaker Jr.; 8. Brint Hartwick; 9. Matt Beasley; 10. David Goode Jr.; 11. Mark Adams; 12. Robbie Daniels; 13. Jeff Rowland; 14. Mike White; 15. Fred Wojtek; 16. Tate Butler; 17. Chris Morris; 18. Buddy Honaker; 19. Matthew Day; 20. Jake Upchurch; 21. Michael Ables; 22. Jon White; 23. Cody Tidwell; 24. Rusty Trevathan Jr.
Stock Cars – 1. Jeffrey Abbey; 2. Tim Clonch; 3. Shelby Williams; 4. Chris McCurdy Jr.; 5. Thomas Hall Jr.; 6. Markiss Harcrow; 7. Boone Evans; 8. Chris Webb; 9. Dennis Bissonnette; 10. Jim Fowler; 11. William Gould; 12. Cody Cline; 13. Tommy Fain; 14. Haydan Hartwick; 15. Lance Hanson. Jr.; 16. George Egbert III; 17. Connor Kesler; 18. David Goode Sr.; 19. Bosco Garrett; 20. Matt Guillaume; 21. April Phillips; 22. Brad Hartwick; 23. Thomas Hall.
Southern SportMods – 1. Rowdy Day; 2. Brandon Geurin; 3. Michael Dabney; 4. Dean Abbey; 5. Chad Reid; 6. Josh Landers; 7. John Reid Jr.; 8. G.W. Egbert IV; 9. Devin Chambers; 10. Calen Mohler; 11. Mason Day; 12. Shannon Hartline; 13. Tommy Dove; 14. Jacob Martin; 15. Danny Cavanagh; 16. Dustin Hector; 17. Bill Blackman; 18. Andrew Williams; 19. Chad King; 20. Colton Keel; 21. Mason Martin; 22. James Skinner; 23. Payton Zentgraf; 24. Boone Evans.