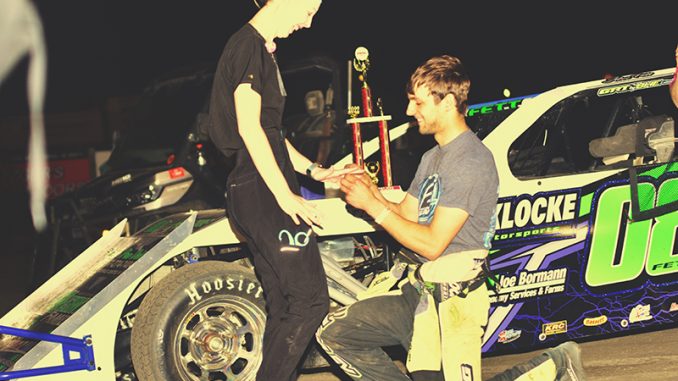 ALGONA, Iowa (May 23, 2022) – Alec Fett got his first feature win of the season and a fiancée on the same night.
The Friesen Performance IMCA Northern SportMod driver from Burt won the May 19 main event at home track Kossuth County Speedway.
During his turn in victory lane later in the program, Fett asked announcer/interviewer Chad Meyer to call girlfriend Brooke Boettcher over and endearments were expressed before he got down on one knee to pop the question.
Speechless at first, the future Mrs. Fett said yes. Alec put the ring on her finger and the Kossuth County crowd got to applaud them both.
"I've thought about doing it here (at Kossuth County Speedway) for about a year. It's where most of our family and friends are and it's been my home track since I started racing hornets eight years ago," Fett said. "Brooke had looked at rings with friends. We picked this one out and I bought it and didn't tell her. I had it ready in my pocket just in case."
Fett thought that while Brooke had an inkling the proposal was coming, the timing caught her off guard.
"I decided to propose after my first win of the year at Algona," said Fett, who'd finish fourth in the season opener a week before. "I started sixth and got to the lead right away, then held off Matt Looft to win it. I'm glad I was able to do it. He's pretty tough."
The proposal was part of the IMCA.TV broadcast of the race program at Kossuth County, so family and friends who weren't able to attend in person still got to watch from home.
"I've gotten congratulations from friends who watched," said Fett. "A lot of people got to see it."
The two have been a couple for six years, since the summer before their junior year of high school.
Tentative wedding date is July 14, 2023, the anniversary of the newly engaged couple's first date. While a venue hasn't been selected, vows might be exchanged at the track, too.