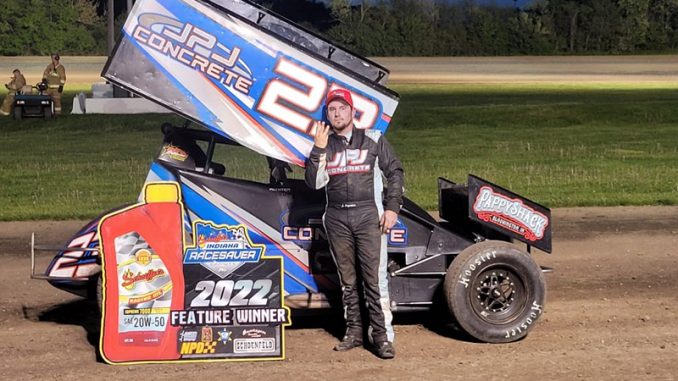 BLOOMINGTON, Ind. (May 16, 2022) – John Paynter Jr. started the 2022 season with a goal of winning as many races as possible. 
Through three Schaeffer's Oil Indiana RaceSaver Sprint Series starts, he's done just that.
The Bloomington, Ind., pilot followed opening night checkers on April 23 at Lincoln Park Speedway with wins May 1 at Circle City Raceway and May 13 at Gas City Speedway.
"Lincoln Park is more high-banked but they're all quarter-mile bullrings, like most of the tracks in Indiana," Paynter said. "We just want to go out and win as many races as possible. We're going to follow the Indiana Series, not chase any extra races and have fun this year."
"We've had pretty good balance with the car (a 2014 Maxim) since we went to RaceSaver Nationals at Eagle last year," he continued. "A lot of hard work and a motor refresh in the off-season, a good car and some good racing luck have put me in a pretty good spot so far this year."
Paynter grew up around racing families but is the first from his own to race. He ran 4-wheelers on the county fair circuit, then won a national go-kart title on pavement before getting into his first sprint car.
His first RaceSaver action came post-college.
"RaceSaver is a fun division. It's the most economical way to race a Sprint Car," Paynter said. "I like that it's competitive and the rules are set in place. Driver and setup are the most important and not how deep your pocketbook is."
Hometown Bloomington Speedway, Kokomo Speedway and Eagle Raceway rank among his favorite tracks. Paynter enjoys the interaction with fans during RaceSaver Nationals and hopes to make his third visit to Nebraska the charm this September.
"We had a trying weekend last year. We had speed but nothing else went our way," he said. "I'm looking to bring the championship belt back to Indiana this year."
He's raced with a motor built by Bill Tranter of Franklin and with shocks and parts from Benic Enterprises of Marion throughout his RaceSaver career.