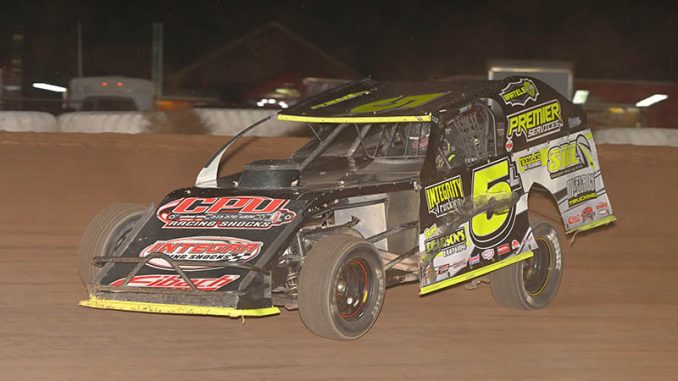 By Ben Deatherage
HANFORD, Calif. (May 3, 2022) – Cody Laney reigned in the Friesen Performance IMCA Modifieds, on night two of the Central California Clash at Keller Auto Speedway.
Racing like he was shot out of a cannon, Laney was flawless on each of the long green flag runs punctuated by five stoppages Tuesday night. After the third restart, he was joined at the front by Monday night winner Bobby Hogge.
Hogge tried to overtake Laney once the field got going, but the leader kept him in check.
The last two cautions came with just a couple of laps to go, setting up a green, white, checkered finish. Hogge had his hands full with Dalton Houghton, which allowed Laney to set sail from the rest of the pack and take the $1,000 win.
Already Fast Shafts All-Star Invitational qualifying eligible, Laney won ahead of Houghton, Hogge, 'B' winner Kyle Heckman and Troy Foulger.
$750 feature winners were Paul Stone in the IMCA Sunoco Stock Cars and Jason Bannister in the Friesen Performance IMCA Northern SportMods.
There was a sensational three-car tussle on the opening lap of the Stock Car main as Stone, Dakota Schweitzer and Rick Diaz all vied for supremacy before Stone took charge.
After dealing with five restarts, Stone had no issues as he dominated the balance of the distance to score the victory. A B & B Racing Chassis All-Star Invitational eligible following his first win of 2022 in Arizona, Stone led Fred Ryland, Steven Johnson, Garrett Corn and Loren DeArmond across the stripe.
Bakersfield's Bannister clan scored its second Northern SportMod win in as many nights as patriarch Jason led every lap, ultimately besting son Tyler following a late caution.
Jason Bannister built a healthy lead from the get-go despite a trio of cautions in the first six laps that kept everyone packed together. When the green waved again, double-duty driver Ryland tried unsuccessfully to complete his pass for the lead as Tyler Bannister entered the fray.
Ryland and Tyler Bannister battled hard for second, allowing for Jason Bannister to take off again, only to be hampered by a caution on the 15th circuit.
What followed was an incredible bout between the Bannisters. The two were close to getting side-by-side, and switched racing lines before Tyler tried his hand on the bottom but Jason Bannister somehow held back Tyler to score the win.
Ryland, Jonathan Hagio and Nick Spainhoward ended 3-4-5.
All three divisions are back in action as the Central California Clash ventures to Thunderbowl Raceway in Tulare for Wednesday and Thursday shows.
Tulare opens at pits at 2 p.m. and grandstand at 4 p.m. The drivers' meeting is at 4:45 p.m. and racing is at 6 p.m. Adult ticket prices are $20 for the grandstands and $15 for the bleachers.
The Clash concludes with May 6 and 7 programs at Merced Speedway.
Feature Results
Modifieds – 1. Cody Laney; 2. Dalton Houghton; 3. Bobby Hogge; 4. Kyle Heckman; 5. Troy Foulger; 6. Jake Pike; 7. Logan Drake; 8. Matthew Hagio; 9. Jim Pettit II; 10. Paul Stone; 11. Nick DeCarlo; 12. Braydon Gladd; 13. Devon Reed; 14. Raymond Keldsen Jr.; 15. Cory McDonald; 16. Cameron Williams; 17. Troy Morris III; 18. Vinny Raucci Jr.; 19. Steve Noland; 20. Jerry Flippo.
Stock Cars – 1. Paul Stone; 2. Fred Ryland; 3. Steven Johnson; 4. Garrett Corn; 5. Loren DeArmond; 6. Troy Foulger; 7. Dakota Schweitzer; 8. Chad Johnson; 9. Larry Thompson; 10. Matt Mayo; 11. Dave Hill; 12. Anthony Guiliani; 13. Miranda Scott; 14. Troy Patee; 15. Josh Nichols; 16. Brock Hamilton; 17. Jacob Van Essen; 18. Steve Stone; 19. Rick Diaz.
Northern SportMods – 1. Jason Bannister; 2. Tyler Bannister; 3. Fred Ryland; 4. Jonathan Hagio; 5. Nick Spainhoward; 6. Markus Frazier; 7. Riley Jeppesen; 8. Willy Oathout; 9. Jason Pugh; 10. Codie Hampl; 11. Emali VanHoff; 12. Orion Messina; 13. Ryan DeForest; 14. Taylor Brard; 15. Austin Pugh; 16. Aaron Farrell.