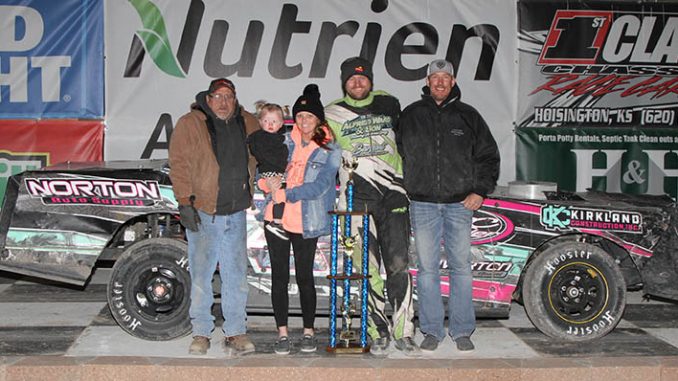 VINTON, Iowa (April 18, 2022) – Another 11 IMCA Sunoco Stock car drivers have earned B & B Racing Chassis All-Star qualifying eligibility.
Blake Clark and William Gould were feature winners at Southern Oklahoma Speedway's Southern Stampede while Jeffrey Abbey topped a pair of Arkansas Spring Nationals events at Batesville Motor Speedway.
Jordan Grabouski and Kyle Vanover scored Spring Nationals victories at Beatrice Speedway and Benji Legg and Jesse Sobbing collected Nebraska Dirt crown checkers.
Crown Challenge honors at Off Road Speedway went to Tyler Iverson while Casey Woken and Kyle Pfeifer earned Mike Hughes Sunflower Classic Memorial wins at RPM Speedway. And Dylan Thornton was the Friday season preview winner at Marshalltown Speedway.
Also a winner at Batesville, Patrick Linn was previously All-Star qualifying eligible.
B & B Racing Chassis All-Star Invitational eligible drivers now include:
Jeffrey Abbey, Renn Bane, Jason Batt, Joe Bellm, Chase Berkeley, Allen Bradley, Larry Brigner, Jeremy Brookshire, Tathan Burkhart, Blake Clark, Marie Curtis, Jeff Danos, Todd Decker, Zane DeVilbiss and P.J. Egbert.
Tommy Fain, Todd Gereau, Adam Goff, William Gould, Jordan Grabouski, Lance Hanson Jr., Ed Henderson,Chanse Hollatz, Danny Holt, Jim Horejsi, Tyler Iverson, Nicholas Johnson, Randy Klein and Taylor Kuehl.
Benji LaCrosse, Jeff Larson, Dillion Lawrence, Benji Legg, Patrick Linn, Wheat Lippelman, Brandon McElroy, Dan Mackenthun, Mitch Meier, Dallon Murty, Mike Nichols, Bo Partain, Kyle Pfeifer, Bryce Pritchett and Dustin Reeh.
And Ondre Rexford, Cade Richards, Jason Rogers, Mich Ross, Kelly Shryock, Roy Smith Jr., Rod Snellenberger, Jesse Sobbing, Paul Stone, Dylan Thornton, Kyle Vanover, Edwin Wells, D.J. Werkmeister,  Shelby Williams and Casey Woken.