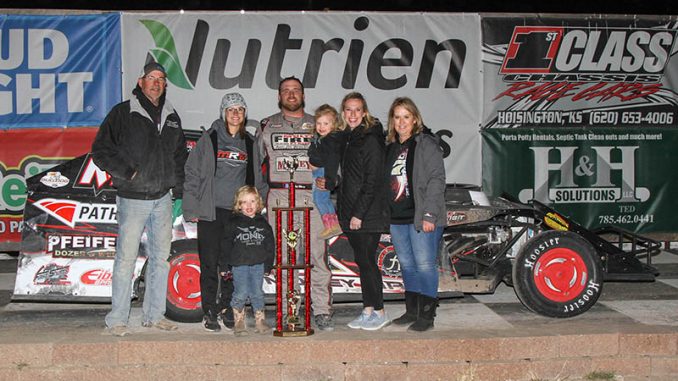 VINTON, Iowa (April 18, 2022) – Their on-track efforts have earned Fast Shafts All-Star Invitational qualifying eligibility for another nine IMCA Modified drivers. 
Tim Ward won both nights of the Southern Stampede at Southern Oklahoma Speedway, as well as the Frostbuster at Boone Speedway. Mark Adams was a weekly winner, also at Ardmore.
Jeff Taylor, Rusty Jeffrey and Wendall Wallace all won Arkansas Spring Nationals features at Batesville Motor Speedway. Nebraska Dirt Crown winners were Jake McBirnie and Jesse Sobbing.
Jeff James won at Beatrice Speedway's Spring Nationals while Tom Berry was best at Stuart Speedway's Frostbuster.
Drivers already eligible winning qualifying events included Chaz Baca, Jordan Grabouski, Austin Kiefer, Cody Laney, Clay Money and Dylan Thornton.
Mark Adams, Keaton Atkinson, Chaz Baca, Jared Baird, Owen Barnhill, Brandon Beckendorf, Tom Berry, Tyson Blood, Steven Bowers Jr., Brody Bowser, Kyle Brown, John Burrow Jr., Josh Cain, Alec Childs and Ty Clemens.
Shane DeMey, Mike Densberger, Zane DeVilbiss, Ethan Dotson, Brandon Durbin, Tripp Gaylord, William Gould, Jordan Grabouski, Trent Gray, Michael Hale, Brint Hartwick,Kollin Hibdon,Jacob Hobscheidt, Bobby Hogge IV and Jeff James.
Rusty Jeffrey, Aaron Johnson, Jeremy Keller, Austin Kiefer, Keith Jack Lamphere, Cody Laney, Jeff Larson, Austin Long, Trent Loverude, Jake McBirnie, Ryan McDaniel, Zachary Madrid, Cody Malcom, Jake Mayden and Chris Mills.
Clay Money, Dallon Murty, Vince Ogle, Jim Pettit, Jacob Pirkle, Jason Reese, Kyle Rohleder, Cody Schroeder, Don Shaw,Dylan Sherfick, Kelly Shryock, Todd Shute, Jared Siefert, Dylan Sillman and Kale Smith.
And Jesse Sobbing, Regan Tafoya, Jeff Taylor, Peyton Taylor, Cody Thompson, James Thompson, Dylan Thornton, Ricky Thornton Jr., Marcus Tomlinson, Wendall Wallace, A.J. Ward.
Tim Ward, Tim Watts, Justin Whitehead and Braxton Yeager.