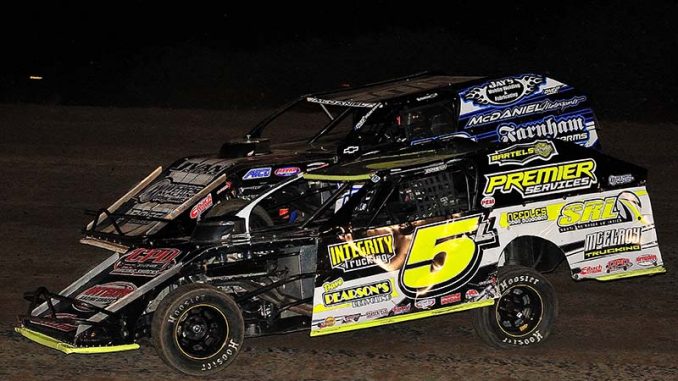 MERCED, Calif. (March 26, 2022) – Cody Laney was back in victory lane with another big check at Merced Speedway's Jerry Shannon Memorial. 
Laney led the last 24 of 30 laps to repeat as IMCA Modified winner at the spring special, earning $5,000.
Pole sitter Jake Pike led the first four laps before the first yellow. The fourth starting Laney, already Fast Shaft All-Star Invitational qualifying eligible, was quickly on the prowl and took over on lap six.
Three more yellows slowed the 22-car field but Laney was not to be denied. Jerry Flippo pursued to no avail and finished second, followed by Pike, D.J. Shannon and 12th starting Rick Diaz.
Fred Ryland was a double winner in IMCA Northern SportMod and IMCA Sunoco Stock Car action.
Youngster Andrew Pearce started on the pole and led through the caution eight laps into the Northern SportMod main. 
Ryland started in the fifth row and moved up quickly and took first place on lap 10 and led to the finish. Pearce and last year's national rookie of the year and defending race winner Tyler Bannister ran third followed by his dad Jason. 
Paul Stone led laps one and two before upstart Dakota Schweitzer took over the spot in the Stock Car feature. He continued to lead through a lap five yellow until he slipped up the track.
Ryland then got the lead and doubled up for the night and took the 20 lap feature ahead of Rick Diaz, 10th starting Steven Johnson and Mark Morton.