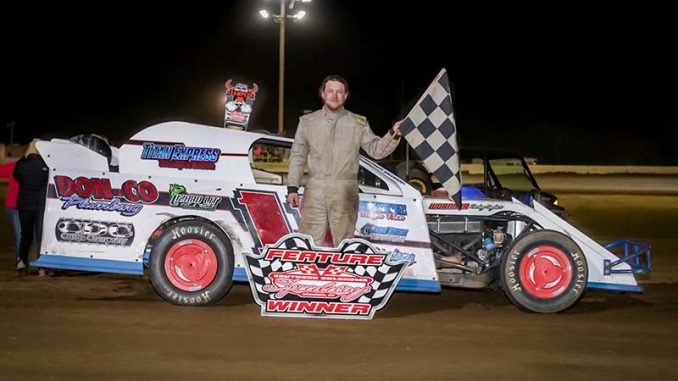 LINDSAY, Okla. (March 25, 2022) – Tim Hamilton figured he'd had enough and quit racing eight years ago.
Now he's back on the track and can't get enough time behind the wheel of a Smiley's Racing Products Southern SportMod.
From Lindsay, Hamilton raced to his career first feature win in the division on opening night March 18 of the IMCA Stampede special at home track Southern Oklahoma Speedway.
"Finally! After all our hard work," said Hamilton. "It certainly wasn't a win that was given to me and I knew my wife Tandra was way happier than I was. My dad George and brother Justin both took off work and were there helping so it was great to be able to win that night."
The $1,000 checkers, he noted, came in a 2014 Western Flyer car previously owned by track promoter John Webb and purchased from Trey Willoughby.
"It's pretty old but it's been updated. We've just raced the crap out of it," said Hamilton, who had a couple third-place finishes and finished 16th in point standings at Ardmore in 2021. "John kept telling me all last season that I had one coming. We were right there a couple times but just didn't have that dry slick track down."
"SportMods are one of the toughest classes at Southern Oklahoma. Three of the top five drivers there were in the top 20 nationally last year," Hamilton continued. "Ardmore is the place to be around here. It's the best competition and the best facility. I knew if I was going to get better I'd have to race with the good guys here."
Hamilton started racing pure stocks at the age of 15, then did a brief stint in the factory stock class before buying his first modified – directly from Webb in this case – and running at nearby Ada. He was half of a race team with his father but followed him into retirement in 2014, frustrated after getting no help from his chassis builder at the time.
He made a handful of visits to area tracks over the years before getting into the Southern SportMod for 21 starts last season.
Despite two switched spark plug wires, Hamilton raced to fifth- and fourth-place finishes in his first races of the season at Abilene Speedway's Ice Breaker, definite confidence boosters leading up to the Stampede.
"We tried out several things and the car felt good the whole night of practice on Wednesday. We made some little changes and got the car to where it would bite good," said Hamilton, who got setup help from Chad Reid. "I hated that Thursday night got rained out but the car felt all right going into Friday."
"We ran the top for a few laps and knew we could run with Jimmy Day and Alex Hickham," he continued. "After a restart I decided I could run around the tires and the car liked it. I knew in just a couple laps that if I could keep hitting my marks I had a good chance to win it."
Hamilton was up early the next morning to drive an hour and a half to son Kameron's T-ball game. He'll balance the rest of his race season, which includes Friday visits to Boyd Raceway and Heart O' Texas Speedway as well as Saturdays at Southern Oklahoma, with his son's traveling T-Ball schedule.
He'll follow the All-Star Shootout Series in May as well. William Gould became Kameron's second favorite driver after giving him one of the trophies he got following series wins last year.