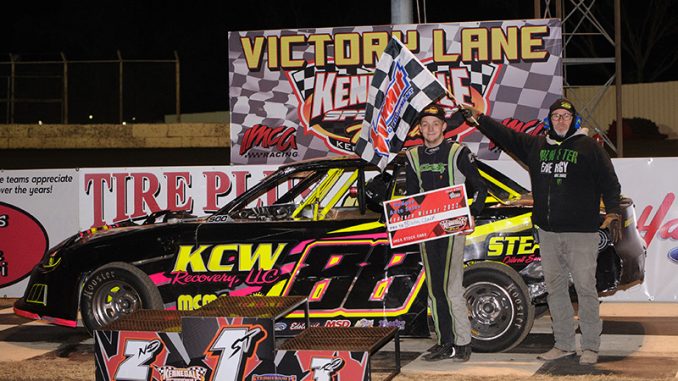 JOSHUA, Texas (March 17, 2022) – After a breakout season in 2021, Blake Clark plans to see a lot more of the EQ Cylinder Heads Southern Region this year.
The IMCA Sunoco Stock Car driver from Joshua, Texas, now the two-time defending track champion at Boyd Raceway, opened the new campaign at Abilene Speedway's IMCA.TV Ice Breaker and in the Sniper Speed Lone Star Tour.
His first feature win of 2022 came on March 12 at Kennedale Speedway Park.
"We're in a new Terminator this year and we're still learning the car," said Clark, who impressed while leading the first 11 laps despite missing on his setup in the Lone Star feature at Devil's Bowl Speedway. "It felt really good to get the win at Kennedale. We're starting to get a feel for the car. We're definitely going in the right direction with it."
Now a senior at Godley High School, Clark was a 14-time winner last year, with half of those victories coming in his final 13 starts.
Those checkers, and another seven top-five finishes in 45 starts, put him third in the Southern Region standings and 14th nationally.
"We did a lot of racing and it was crazy, because we weren't racing for anything at the start of the season," he said. "We didn't really realize where we were until we checked the points one day. We ended up finishing ahead of a lot of good drivers and almost couldn't believe it."
Clark progressed through the racing ranks from junior mini's to street stocks and factory stocks. He credits family, friends and fellow competitors for helping him hone his on-track and in the shop skills.
"There are a lot of drivers I've raced with for a long time. There are a lot of people getting into the class, especially at Kennedale," said Clark, fifth in the points race last year at KSP. "It's good, clean racing and it's really fun."
Seventh in points for the weather-shortened Lone Star Tour, Clark won a stacked heat and remained a contender through the first half of the Devil's Bowl show, in his first race at Mesquite.
"I liked racing the tour. I wish we could have gotten a few more nights in because I enjoy running with the Northern drivers. I learn a lot from them," he said. "I like traveling. Learning new tracks is one of the things I like best about this class."
Next on Clark's educational journey are sessions at Southern Oklahoma Speedway's Stampede special and Arkansas Spring Nationals at Batesville Motor Speedway.