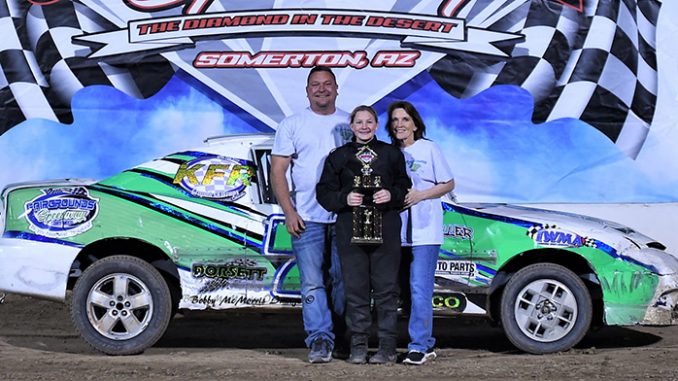 FARMINGTON, N.M. (March 16, 2022) – She's already got local track rookie of the year and sportsmanship awards on her racing resume. 
Now, Miley JoAnn Goldwich-Rhames has her eyes on much bigger prizes in her first IMCA season.
Just four weeks after celebrating her 14th birthday, the Pinon Halls Academy eighth grader from Farmington, N.M., raced to Mach-1 Sport Compact career win number one at Cocopah Speedway. The victory came in her 10th start in the 4-cylinder class and was followed by another win and a pair of second-place finishes in her next three starts at the Arizona oval.
"It felt really good. I never expected to get my first win this soon. I was in shock a little bit," said Goldwich-Rhames. "My adrenaline was really up there. This class is really exciting. I never thought I'd be able to do some of these things at my age. It's challenging and it's fun."
The youngest of four sisters, she's the first in her family to race. Goldwich-Rahmes had enjoyed diving and gymnastics, among other activities, before learning about a Young Guns class running at Fairgrounds Speedway.
Gene Felker had talked to Miley's father Curtis about her possible interest in the 4-cylinder class at the Cortez, Colo., oval. After answering with an enthusiastic "Let's do it," she'd have a week of practice before her first night behind the wheel of a Chevrolet Cavalier that came off the assembly line four years before she was born.
Goldwich-Rhames had multiple feature wins, plus the top rookie and sportsmanship awards, to show for her 2021 season. She started 2022 at Cocopah's IMCA.TV Winter Nationals, finishing 11th in the point standings and making the acquaintance of Kaytee DeVries, IMCA's winningest female driver and four-time and defending Lady Eagle champion.
"My family is still new to racing. We're still learning," added Goldwich-Rhames, who got a lesson in shifting from new Facebook friend and long distance mentor DeVries. "Now I'm looking forward to going to Iowa and racing with her. I'm hoping to race at Spring Nationals (in Beatrice), too."
After making regular 10-hour trips to Cocopah at the start of her career, she'll add to her driving and mechanical skills running both a Sport Compact and a Grumpy Chassis-built IMCA Sunoco Hobby Stock primarily at home track Aztec Speedway and Cardinal Motor Speedway.
With spring and opening nights at more tracks just around the corner, Goldwich-Rhames was leading the Junior National champion standings and was second in both national and Lady Eagle points.
"Winning any of those would be exciting," she said. "I've watched Super Nationals on IMCA.TV and I'd be honored to go there. I'm looking forward to racing at Boone, and the opportunity to race with so many amazing drivers."
Many of the drivers she raced with this season have already become family friends.
"Everybody will just jump in and help if you need it. Guys we don't know have come to our pit and helped. Everybody helps everybody," her mother Shelley said. "We might be new to this but we're pretty excited to be on this ride."