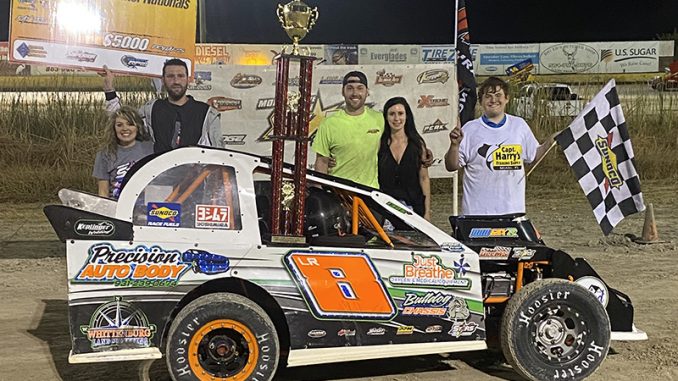 CLEWISTON, Fla. (Feb. 12) – Ronnie Choate started and ended the IMCA STARS Mod Lite Sugar Bowl Winter Nationals presented by Sunoco Race Fuels in victory lane.
The IMCA STARS Mod Lite driver from Cookeville, Tenn., topped Thursday's opening night feature at Hendry County Motorsports Park and earned $500, then scored a $5,000 payday in Saturday's main event.
"This made all the hard work and sweat we have put into this worth it," said Choate, sharing credit for the Sugar Bowl success with brother-in-law and crew chief Logan Rittenberry. "We have struggled but we never gave up. "The money makes it all pretty good but the best part is that we didn't give up and now we're getting somewhere."
A record 66 STARS Mod Lites from 13 states and Canada vied in the third annual special. Choate started from the pole in the 30-lap headliner on Saturday and chased outside front row starting Tim White the first eight times around the track.
Three cautions came out just after midway but the race stayed green the last 11 circuits and Choate beat Californian Zac Forster to the stripe by 2.7 seconds.
"We did some (setup) stuff a little different. We went backwards on Friday and finished fifth in the feature," he said. "We went the other way with changes on Saturday because we knew the track would get slick."
"We have more red clay around home so this is a totally different track for us. Hendry County is more Sandy," added Choate, eighth in the big money show at Clewiston last year. "I slowed down and got faster. I tried to go straight and hoped my tires would hold up. We got faster as the race went on and that's a good thing. That's what we tried to set up for."
Dillon Raffurty, Cody Sisson and Jason Masengarb rounded out the top five.
Early leader White was sixth while Mike Zemo Jr., winner of the manufacturers' race and $1,000 and Friday's feature was seventh. Defending race winner R.J. Gonzales was the hard charger, driving from last in the field of 23 to 10th.
Dillon Raffurty won the race of champions on practice night Wednesday. Michael Raffurty ruled the non-qualifiers' feature Saturday evening.
Yoshimura bonuses of $250, $150 and $100, respectively went to Choate, Forster and Dillon Raffurty.
Choate earned $6,150 over the course of four days at Hendry County, dedicating his Sugar Bowl Winter Nationals main event win to friend, former crewman and former driver Randy 'Fly Trap' Fly, who sold him his first Mod Lite and is now battling health issues.
Feature results – 1. Ronnie Choate, Cookeville, Tenn.; 2. Zac Forster, Bakersfield, Calif.; 3. Dillon Raffurty, Kansas City, Mo.; 4. Cody Sisson, Morristown, Tenn.; 5. Jason Masengarb, Colona, Ill.; 6. Tim White, Salisbury, Md.; 7. Mike Zemo Jr., Davenport, Iowa; 8. Douglas Williams, West Monroe, N.Y.; 9. Riley Clem, Bakersfield, Calif.; 10. R.J. Gonzales, Colona, Ill.; 11. Darrick Hubbard Jr., Bellville, Ohio; 12. Morghan Johnson, Fayetteville, N.C.; 13. Tanner McLoughlin, Nashport, Ohio; 14. Corey Lowe, Sikeston, Mo.; 15. Josh Sliter, Port Colborne, Ont.; 16. Chris Robinson, Steubenville, Ohio; 17. Logan Brown, White, Bluff, Tenn.; 18. Jeff Asher, Park Hills, Mo.; 19. Austin Martin, Sarasota, Fla.; 20. Codey Benoit, Buckingham, Fla.; 21. Kyle Demo, Fulton, N.Y.; 22. Teddy Williams II, Leavittsburg, Ohio; 23. Brent Begolo, Ontario, Ont.