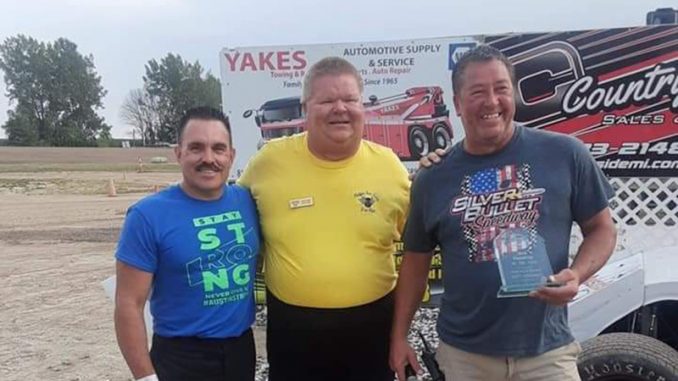 OWENDALE, Mich. – Matt Hoonhout will have a second plaque to put on display in the new front entrance building at Silver Bullet Speedway. 
Starting his 10th year in charge of the Owendale oval, Hoonhout is now recipient of 2020 Michigan Auto Racing Fan Club and 2021 Michigan Speedway Promoters Association promoter of the year awards.
"I did not expect to receive either of them," he admitted. "The MARFC award is a great honor. We did not have a banquet because of Covid so I got it at my track. It's a cool award, probably the second best you can get in the State of Michigan."
"The MSPA award is the coolest because it's voted on by your peers, your fellow track owners and promoters."
He'll get the MSPA plaque later this spring, in time to have both awards displayed on opening night in the combination ticket booth, restaurant, restroom, gift shop and museum at Owendale, where IMCA Modifieds are on Saturday race cards for a fifth consecutive season.
Hoonhout had a personal connection to Owendale before buying the track in March of 2012.
Growing up, he'd attended races there as a fan and won a spectator drag there before following older brother Cory – who'd been part of Arie Luyendyk's Indianapolis 500 winning crew in 1990 – into limited late model and then Modified divisions.
"I've done construction and remodeling since I was about 12 years old," said Hoonhout, who changed the name of the track back to Silver Bullet Speedway after completing the purchase. "We rebuilt basically the whole track and all the buildings, and updated the lights. I wanted to make it mine. The updating and upgrades made it one of the nicer facilities in Michigan and IMCA Modifieds are an important part of our race program."
He's honed his track prep skills over the past decade, even getting help with clay sample analysis from experts at Michigan State University in Lansing, while doing his best to make sure that every new driver and fan's first impression of Silver Bullet Speedway is a positive one.
"I want everything done right," Hoonhout said. "When a driver or fan pulls in for the first time, their initial impression is huge. I am very big on making a good first impression. I always want everything to look good."
The museum portion of the new building will include memorabilia from both Owendale and the old Thunder Road Speedway in nearby Cass City.