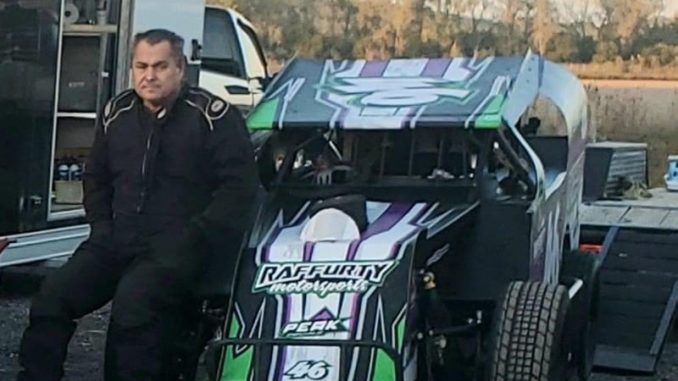 KANSAS CITY, Mo. – David Raffurty, 57, Kansas City, Mo., raced into the final lap of life on Wednesday, Jan. 19, 2022, after a courageous battle with Covid 19.
David was born in Kansas City on Oct. 26, 1964, to Richard and Linda Raffurty. David was a life-long resident of Kansas City. He attended the Center School District. He graduated from CHS in 1983. David attended vocational school, studying welding and mechanical design. In his senior year, he designed and built a log splitter that won him many awards for welding and design that was way ahead of its time.
As a teenager, David worked for Country Club Tree Service in Kansas City, along with having his own firewood business. He had a work ethic second to no one, which led him to starting his own very successful company, D & R Excavating in 1986. He did it his way, built it from the ground up, with no help from outside his abilities.
He always took the time to help friends and family with whatever they needed.
David married Sherry Chastain on June 26, 1993. They have two sons, Michael Raffurty and Dillon Raffurty.
David had a passion for anything with an engine on it, from motocross bikes, three wheelers, four wheelers, boats, trucks and then race cars.
In 1995, David was invited to drive a friend of his father's Dwarf car. From that moment, David was hooked. As with anything David did, he excelled in racing and building his own race cars. Over the next 26 years, he had over 500 wins in the Dwarf cars and Mod Lites combined. His accomplishments included too many championships to list at race tracks all across the Midwest.
Both of his sons followed in David's racetracks. He truly enjoyed watching both of his sons race. They started racing as soon as they were eligible. David was very proud of both son's accomplishments. In his final year of life, he traveled throughout the Midwest with his sons, chasing the IMCA STARS Mod Lite national championship with a car he and his sons built together. Dillon achieved their goal of winning the national championship in 2021. David and Michael finished in the top 10 in the country. David was named by IMCA as the STARS Mod Lite Crew Chief of the Year for 2021.
He is survived by his wife, Sherry Raffurty of the home; two sons, Michael Raffurty and Dillon Raffurty, Kansas City, Mo.; his loyal companions, Lily and Mack, of the home; his mother Linda Raffurty; siblings Richard C. (Laura) Raffurty of Pleasant Hill, Jeff Raffurty and his companion Tiffany Christopher of Holt, and Cindy Engle of Prairie Village, Kan., and many nieces and nephews; also, many life-long friends.
He was preceded in death by his father, Richard O. Raffurty and his grandparents on both sides of the family.
Visitation will begin at noon with services to follow at 1 p.m. Saturday, Feb. 5 at Park Lawn Funeral Home, 8251 Hillcrest Road Kansas City, Mo.