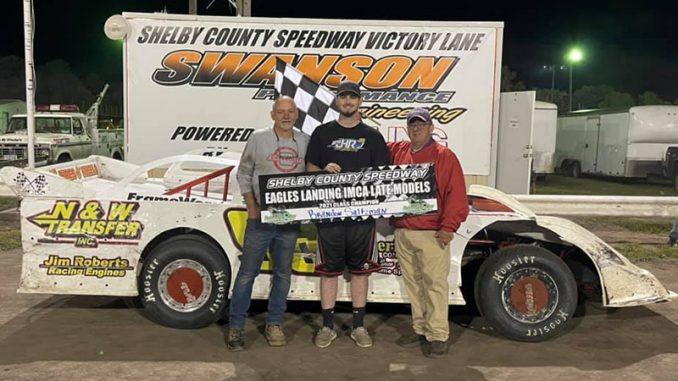 OMAHA, Neb. – Brandon Scott Saltzman, 24, of Omaha, Neb., passed away on Monday, Jan. 3, 2022 after a long battle with cancer. 
He was born on Nov. 9, 1997 in Omaha, a son of Teresa Hiatt and Scott Saltzman. Brandon was a graduate of Papillion La Vista High School in Papillion. He worked for Baxter Auto from November of 2018 until June of 2019. Brandon was currently employed with Al Heating and Cooling.
Brandon's passion was racing on a dirt track with his no. 98 white Late Model car. Racing was a family tradition that he carried on from his father and grandfather. His illness didn't keep him on the sidelines.
While undergoing chemotherapy, he only missed one race in 2019 and in 2020 he was victorious at the I-80 Speedway. Brandon continued his determination in 2021 and won the IMCA Late Model track championship at Shelby County Speedway in Harlan, Iowa. He will be deeply missed by his fans and friends at the track as well as his family.
Friends will be received from 4-8 p.m. on Thursday, Jan. 6 at The Post Event Center, 7400 Q Street, Ralston, Neb., 68127. A celebration of Brandon's life will be held at 11 a.m. on Friday, Jan. 7 at The Post Event Center. Interment will follow at Westlawn-Hillcrest Memorial Park Cemetery in Omaha, Nebraska.
Expressions of sympathy may be made to the family of Brandon Saltzman.
Brandon is survived by his mother: Teresa Hiatt (Ronald); father: Scott Saltzman (Debra Hobscheidt); maternal grandmother: Anna Lennart; daughter: Penelope Lynn Perales; sister: Amanda Saltzman; step-sister: Mary Hiatt; step-brother: James Hiatt; niece: Aariyah Saltzman; nephews: Anakin Page and Atari Saltzman; step-grandmother: Bonnie Hiatt; and many other family and friends. He was preceded in death by his maternal grandfathers: Harold Thomas and John Lennart and paternal grandparents: Merle and Rose Saltzman.
Arrangements are under the direction of Houser-Millard Funeral Directors, 2613 West Main Street, Jefferson City, Mo., 65109 (573) 636-3838 and Colonial Chapel Funeral Home, Lincoln, Neb. Condolences may be left online for the family at www.millardfamilychapels.com.