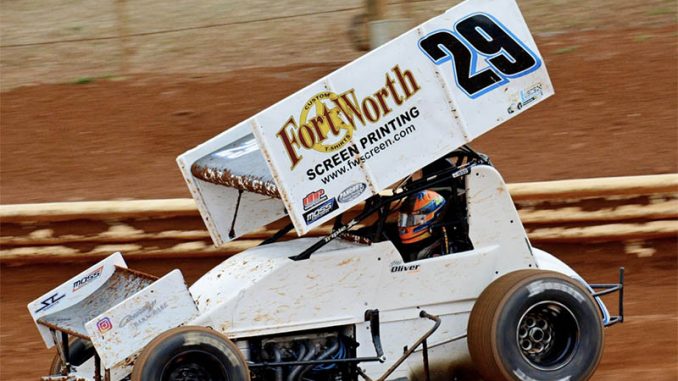 PENDERGRASS, Ga. – Some day, Jeff Oliver will look back at the 2021 IMCA RaceSaver Sprint Car season and have an even better appreciation for his accomplishments.
But right now, he wishes the season wasn't over and he was still racing.
Along with the Carolina Sprint Tour crown, Oliver won KMJ Performance State championships in North Carolina and South Carolina. He's just the fourth driver to win multiple IMCA state titles in the same division in the same season since the awards program was started in 2000. 
"It's very cool. Statistics are cool but they're something you can get caught up in. They're something I want to look back at some day," the San Diego native and Pendergrass, Ga., transplant said. "We had a very good season and I wanted to keep pushing. When you're running good, you don't want to stop."
Oliver won seven of his 12 CST starts, taking the checkers at five different tracks. He also saw action with the Southern United Sprints, Pennsylvania Sprint Series and Laurel Highlands Sprint Series.
He ran second to brother and teammate Danny on opening night for the Southern United Sprints at 105 Speedway, then connected with John Garrett at Fort Worth Screen Printing who signed on as a sponsor for the number 29 car.
"Things started clicking after that. We started winning and never stopped," Oliver said. "Things fell into the season that were unexplainable. We always want to race but we got rainouts when we needed them, like when we needed parts or needed to focus on our business. It was pretty incredible."
"I have to thank a lot of people for helping me get through the tough times after losing my wife Nicole to cancer in March of 2020," he added. "The racing community helped me get through that."
When he's not on the track, Oliver is showing sons and crew members Hawkins, 9, Hendrix, 7, and Hagen, 5, the Sprint Car ropes. Hawkins and Hendrix are already racing quarter midgets.
While he has favorite tracks around the country, South Carolina's Laurens County Speedway is at the top of Oliver's list.
"It's really unique. It's where I got my first two Sprint Car wins ever last year and that's what put what happened this year in motion," said Oliver, who won again there in August. "It's a technical track and a great environment to pick up my first two wins at in front of a packed grandstand."
Also backed by VP Racing Fuels of Commerce, Ga., Oliver shared credit for his 2021 success with Chris Moss at Moss Racing Engines in Shelby, N.C.
"He's been building these engines for years now and was a huge part of my RaceSaver success," Oliver said. "I'd like to pair a lot of my success to my one-on-one relationship with Chris. I'm grateful for the time he spends with me weekly dialing in fuel settings and gear ratios."