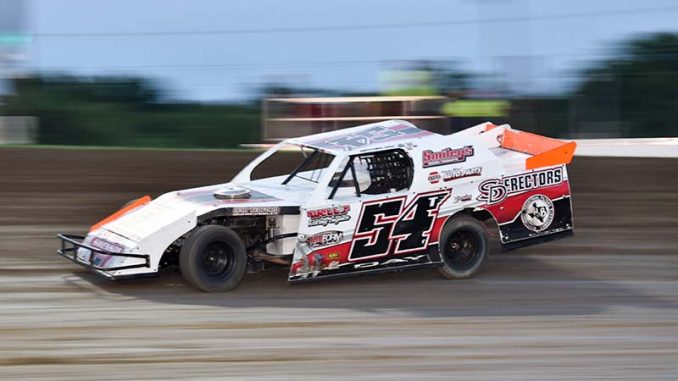 FARMERSVILLE, Texas – A driver who left prom early to go racing will be wearing a tuxedo again at the IMCA national awards banquet.
Matthew Day, 18 years old and a senior at Farmersville, Texas, High School, collected a division-best 14 feature victories in winning the 2021 Smiley's Racing Products Southern SportMod national championship
"It's definitely a big accomplishment," said Day, who had earned top rookie of the year honors in the class last year. "All the work we put in on the car was definitely worth it."
'The car' is the same 2020 Harris that Dean Abbey had driven to the 2020 national crown.
"We chased Dean a lot of last year and decided to upgrade," explained Day, who also enjoyed the expertise that car owner Chris Bragg provided with the purchase. "I wanted to be more consistent and get more wins this year. Our realistic goal was 10 wins."
"It took a little bit of getting used to but the car definitely fit my driving style," he added. "We didn't have the experience Dean did in this car or in the division but at the end of the day the only thing that was going to affect my points was me."
The track champion at Southern Oklahoma Speedway and KMJ Performance Oklahoma State king, Day moved to the top of the point standings after winning three of five All Star Shootout starts in late May.
"That was probably the highlight of the season. We ran five races, two of them in my dad Dan's car, won twice at Ardmore and once at Heart O' Texas Speedway," he said. "Right about the time the All Star Shootout started is when I figured out the car and how I wanted to drive it. Everything went perfect and it just happened to be my birthday week."
Day totaled nine wins at Southern Oklahoma – he ran second there the night he ducked out of prom early and got to the track late – and three times at Boyd, where finished fifth in points. Day also took single wins at Waco and at Kennedale Speedway Park.
He finished outside the top five just twice in the last two months of the season, winning six times over that span and ending the year with three straight checkers.
"We focused on Ardmore because that's by far the track I feel most comfortable at," he explained. "We got locked in there the last night, then raced (and won) at Kennedale to get ready for their big special."
A graduate of the local junior limited class, Day emphasized how time in the shop and time hitting the books paid off on the track.
"When I got out of school, I spent more time than ever working on my car," he said. "I studied setup over the winter and learned everything I could about it."
Day is the ninth different driver to win the national Smiley's Racing Products Southern SportMod in as many years and the second 18-year-old to do so. Jeffrey Abbey was also 18 in his 2016 championship season.
"A little of everything went into this season for us. The car was better. I'm definitely a better driver and definitely better with setup, and Chris Bragg gave us a lot of help," said Day. "Our plans for next year are still up in the air but I'm always wanting to improve and I've got a pretty good team behind me."
Starts-41 Wins-14 Additional Top Fives-16
His Crew: Parents Dan and Sandra, brother Mason, sister Morgan, Zac Sydney and the Godwin family.
His Sponsors: SD Erectors and Bob Tedford Chevrolet, both of Farmersville; Wells Racing En­gines and H and B Industries, both of Duncanville; Chris Bragg Racing of Springtown; Swenson Racing Shocks of Boerne; Real Racing Wheels of Independence, Iowa; KS Engineering of Albert Lea, Minn.; and ATC Bolts and Fasteners of Dover, Fla.