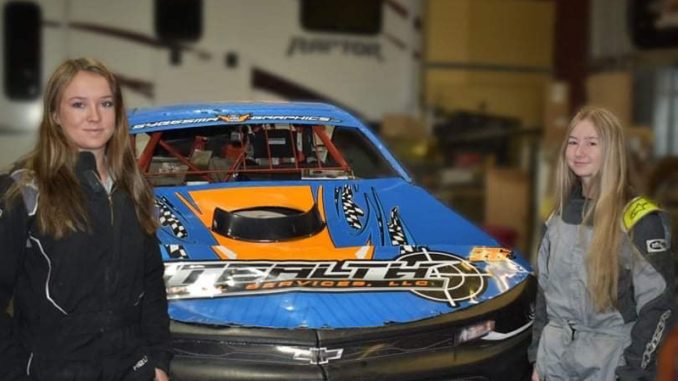 WINNEMUCCA, Nev. – Marie Curtis liked the handling and the power that came with an IMCA Sunoco Stock Car.
Kayla Curtis liked the idea of getting on the track in a Mach-1 Sport Compact when she went to the races.
When 2021 IMCA point standings became official, the Winnemucca, Nev., siblings made history as the first sisters to win KMJ Performance State championships.
Both were rookies in their respective divisions and neither had made the Nevada State crown a goal at the start of the season.
"I was just out there to race and have fun," explained Marie, 20 years old and a full-time student at Great Basin College and employee at the family construction and excavation business. "I was really excited to race a Stock Car."
She'd previously run in pure stock and hobby stock classes and got a longer look at the sanctioned division last November.
"I had seen them around before I went to the Duel In The Desert with my boyfriend (Chaz Baca) and decided I wanted to be in one of those cars," said Marie. "I liked the full-bodied car and I liked the power. I told myself I was going to get one of those."
She bought a 2012 Wolfe Chassis out of Western Iowa. Curtis swept a Northern Nevada Tour Weekend and became one of just eight IMCA drivers to win three track championships this year by pacing points at Battle Mountain Raceway, Summit Raceway and Winnemucca Regional Raceway.
"I was really excited to race a Stock Car this year. Chaz said I should go to Cocopah Speedway (in Arizona) to start the season and running on a bigger track than I was used to was a real eye opener," Marie said. "The competition there was good and it made me a better driver."
Marie made her last two starts of the year at Cocopah and ended as runner-up in the standings to sponsor Leslie Gill. Both Gill and Baca helped her with setup throughout the season.
"I never, ever expected to be second in points with the caliber of drivers they have at Cocopah," she said. "Brad Whitfield always gave us an excellent track."
Kayla, 18 years old and a May high school graduate, had handled pill draw duties for her sister and then competed in a local 4-cylinder class ahead of her rookie Sport Compact campaign.
"I got tired of watching her and decided to get a car of my own," she said.
Back-to-back victories at Winnemucca in late July and early August sparked a charge to the track championship as well.
"Toward the end of the season, I realized I could win the track championship," she said. "I didn't know I had the state until Marie told me. That came as quite a shock. I didn't know I could do that good."
Planning a career in diesel mechanics, she'll be back in the Sport Compact division at Winnemucca next season.
"I like the support we got from local fans," Kayla said.
Marie is the first-ever Stock Car State champion crowned in Nevada, Kayla just the second Sport Compact State champion crowned there.