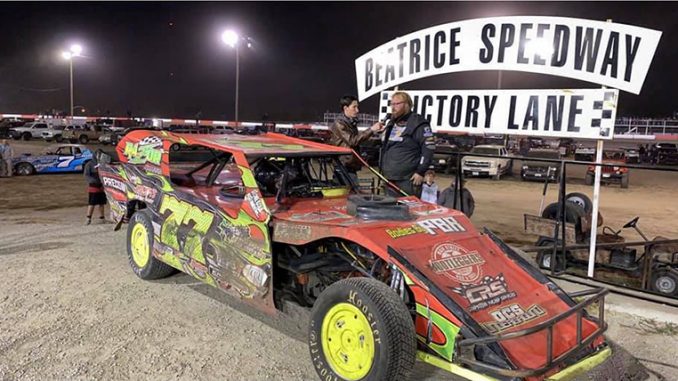 BEATRICE, Neb. (Oct. 15-16) – After making his first trip to victory lane at Beatrice Speedway, Tyler Frye described the Saturday Octoberfest show as a pretty remarkable night.
After his second main event win, it became a storybook night.
Frye borrowed a ride from Cody Williams and won the Karl Kustoms Northern SportMod feature, then wheeled his own IMCA Sunoco Stock Car to the checkers.
He started fourth in the Northern SportMod main, worked the top side from the get-go and was in the lead for good when the second of 20 laps was scored. That victory, ahead of Kaylin Lopez and Adam Armstrong, was his first at Beatrice's fall special since his 2015 national championship season.
The Stock Car win came from the pole and in just his sixth start in that ride.
"The car felt awesome. I knew from lap one that I had a good car," Frye said. "I ran my line and hoped no one stuck their nose under or around me. It's awesome to win in a car we bought to have fun with."
He'd pause to remember his father Troy, who passed away in May.
"It was a storybook night and I've got to believe he was there to help," Frye said. "To win once at Octoberfest was huge. To win twice, I've got to believe he was there helping us do it."
Lance Borgman raced from ninth starting to second, Benji Legg from 11th starting to third.
Jordan Grabouski earned $2,000 and Fast Shafts All-Star Invitational qualifying eligibility with his IMCA Modified feature win. Jeff James and Jacob Hobscheidt rounded out the top three.
Tristan Grape bested Brendon Stigge and 10th starting Taylor Huss in the race to the IMCA Sunoco Hobby Stock checkers.
And Zach Bohlmeyer won the 12-lap Mach-1 Sport Compact main from the 15th starting spot, ahead of Drake Bohlmeyer and 11th starting Dillon Richards.
Mike Densberger led every lap of Friday's Modified feature, winning at Octoberfest for the first time and then delivering the trophy to his father Melvin, on the mend from a 4-wheeler accident.
"It meant a lot for us to win this race," said Densberger, who collected $1,000 and also became eligible to qualify for the Fast Shafts All-Star Invitational. "I race at Beatrice weekly and had a good season there. I won there twice and finished third in points but this is the first time we've won this race."
Grabouski challenged early before Densberger pulled away from the pack, winning by two-plus seconds ahead of Bob Zoubek and Jeff James.
Legg sped from eight starting to win the Stock Car feature, with Paul Burck second and the 12th starting Frye in third.
Cade Richards, Greg Metz and Armstrong ran 1-2-3 in the opening night feature for Northern SportMods.
Richards topped Friday's Hobby Stock feature with Nick Ronnebaum and 11th starting Taylor Huss in tow. Drake Bohlmeyer was the Sport Compact winner, in front of Richards and Devin Schmidt.
More than 130 IMCA entries were on hand for the season-ending special at Beatrice.