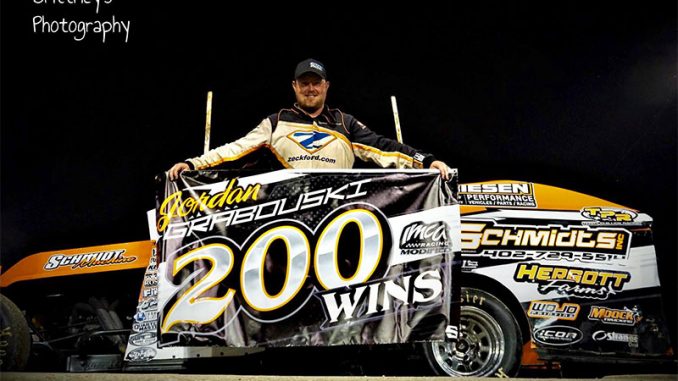 BEATRICE, Neb. – Jordan Grabouski is hoping two milestone achievements earned on the same night lead to a third accomplishment at the end of the season.
Grabouski won his IMCA Modified career 200th feature on Friday, completing the rare feat of sweeping the regular season at his hometown track with his 11th victory in as many starts at Beatrice Speedway.
The victory was the 27th of the year for Grabouski, running for a third national championship.
"It's always cool to win at Beatrice. This is the track where I grew up so it's got a special place in my heart," said Grabouski, IMCA's national champion in 2011 and 2016. "I grew up watching a lot of great drivers at Beatrice. I never thought I'd sweep the season at any race track, especially here."
The only feature Grabouski didn't win at Beatrice this year was opening night of Spring Nationals.
He bounced right back with the night two checkers – extending his career record to 10 Spring Nationals victories – and topped the Gage County Fair special before winning for the 11th time in as many weekly starts on Aug. 17.
"Winning all the regular races at Beatrice and my 200th feature are kind of hard to take in all at once," Grabouski said. "They rank right up there but the big picture right now is the national championship."
"Hopefully we can get that done," added Grabouski, also an eight-time winner this season at Eagle Raceway. "We're trying for it and doing the best we can. We're able to do most of our racing on Friday and Saturday nights and not travel so much. It's cool to have the tracks in our backyard."
While adding to his IMCA Modified feature win total, Grabouski has started collecting W's in another division.
He was a double winner again Friday in an IMCA Sunoco Stock Car borrowed from Dustin Schmidt. Grabouski has made two trips to victory lane on the same night six times this year, five of those occasions being at Beatrice.
"We're having a lot of fun with the Stock Cars," he said. "It's good competition."
Grabouski is the 14th IMCA driver to reach the 200-win mark during the sanctioning body's modern era (dating from 1979) and the fifth to do so in the Modified division.
Beatrice has proven to be something a hot bed for double zero IMCA wins: Johnny Saathoff won both career 100th and 200th Modified features there in 1998 and 2003, respectively, Mike Nichols won his 100th Stock Car feature there in 2005 while Grabouski's 100th came at Beatrice on May 23 of 2014.