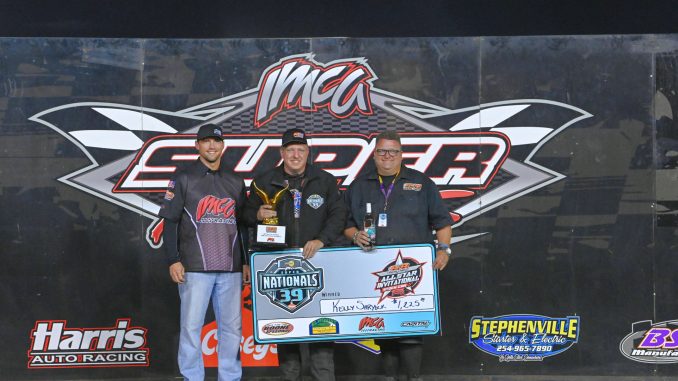 BOONE, Iowa (Sept. 9) – Kelly Shryock won his 500th career feature race earlier in the season. 
He won another of what has quickly become one of IMCA's most prestigious events Thursday night.
Shryock led the last nine times round the track, catching race-long leader Dusty Van Horn on his way to topping the inaugural B & B Racing Chassis Stock Car All-Star Invitational at Boone Speedway.
Winning the newest event of the IMCA Speedway Motors Super Nationals fueled By Casey's was good for $1,000, plus another $225 in lap money and a powder coated chassis valued at $6,550 courtesy of B & B Racing Chassis.
"What can you say about winning a chassis race?" Shryock asked post-race. "Paul (B & B owner Burger) has been great in his support of the Stock Car division and with this race. Hopefully we can get it put together, come back to Boone and win with it again next year."
Chanse Hollatz ran second the last three laps. Van Horn, 23rd starting Dallon Murty and Jesse Sobbing rounded out the top five.
The field of 30 started three wide and Van Horn led the first 21 laps. Two cautions slowed the early going, the second of those on lap four when Travis Barker rolled on the front stretch.
After fending off Brian Blessington, Van Horn led by just his bumper over Sobbing when lap 10 was scored.
Sobbing and the eighth starting Shryock were in a scrap behind Van Horn at midway, but Shryock was able to set his sights on the leader once he'd taken over second on lap 17.
"I just had to be patient and wait for my car to come to my setup," explained Shryock, winner of last year's Sunoco Race Fuels Race of Champions. "We've never won the big one at Super Nationals in a Modified or a Stock Car but our team doesn't give up, so watch out."
Forty-two entries vied in two rounds of time trial qualifying on Wednesday that sent 25 cars to the All-Star field; the grid was completed by another five drivers who'd won sanctioned events paying $5,000 or more and who were competing at Super Nationals.
Eleven states were represented in the first B & B Racing Chassis All-Star Invitational.
Feature results – 1. Kelly Shryock, Fertile; 2. Chanse Hollatz, Clear Lake; 3. Dusty Van Horn, Atlantic; 4. Dallon Murty, Chelsea; 5. Jesse Sobbing, Malvern; 6. John Oliver Jr., Danville; 7. Jake Nelson, Williston, N.D.; 8. Ethan Dotson, Bakersfield, Calif.; 9. Johnny Spaw, Cedar Rapids; 10. Devin Snellenberger, Pulaski, Wis.; 11. Devin Smith, Lake City; 12. Collen Winebarger, Corbett, Ore.; 13. Brian Blessington, Breda; 14. Caleb Stone. Lovington, N.M.; 15. Damon Murty, Chelsea; 16. Zachary Madrid, Phoenix, Ariz.; 17. Jeff Tubbs, Colby, Kan.; 18. Dillon Lawrence, Salt Lake City, Utah; 19. Brandon Czarapata, Pulaski, Wis.; 20. Ryan Bjerkeset, St. Peter, Minn.; 21. Zane DeVilbiss, Farmington, N.M.; 22. Tathan Burkhart, Hays, Kan.; 23. Troy Burkhart, Hays, Kan.; 24. Jay Schmidt, Tama; 25. Randy Brands, Boyden; 26. Derek Green, Granada, Minn.; 27. Travis Barker, Sioux City; 28. Todd Decker, Edmond, Okla.; 29. Jeffrey Larson, Lakefield, Minn.; 30. Tom Berry Jr., Des Moines.