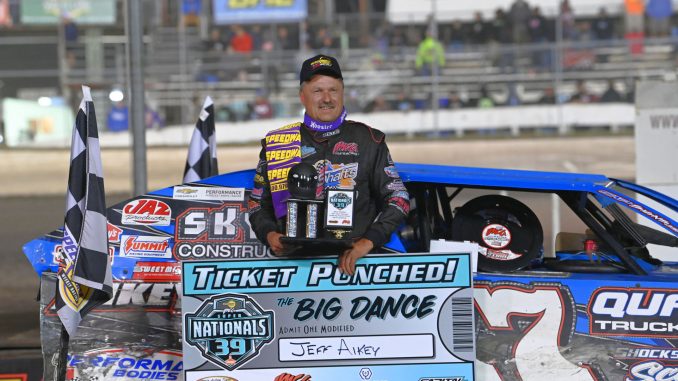 BOONE, Iowa (Sept. 9) – One of the lessons to be learned from Thursday Modified qualifying at the IMCA Speedway Motors Super Nationals fueled by Casey's was not to ever doubt Jeff Aikey.
Tim Ward was pretty convincing, too.
A night after passing up a guaranteed seventh or eighth row spot in Saturday's Big Dance at Boone Speedway, Aikey marched from 10th to win the evening's first qualifier. He'll start first or second in the middle row come main event time.
"I'm pumped," a beaming Aikey said from victory lane. "I really think we have a shot at this."
The all-time leader in career Super Nationals crowns with seven – six in a Late Model plus the 2018 Modified title – Aikey was on leader Justin O'Brien's back bumper with five laps to go, took over the front spot before a lap 23 caution and then held on through a green, white, checkered finish.
O'Brien, J.D. Auringer and Troy Morris III rounded out the four transfer spots. Cayden Carter was disqualified from his transfer, and from the Fast Shafts All-Star Invitational berth he'd earned earlier in the evening, for an illegal crate engine.
Ward led the distance and was chased by first-time Super Nationals competitor Jeff Reay the last 19 laps in the nightcap. Caught up in traffic late, his margin of victory was a deceptive four tenth's of second. Cory Sample and two-time Super Nationals champion Richie Gustin completed the top four.
Auringer makes his career ninth Super Nationals start, Gustin his seventh, O'Brien his fifth, Ward his fourth, Aikey his third in a Modified and Morris, Reay and Sample each their first. Sample is also the first Nevada driver, and just the second overall, to qualify for the main event since Jason Pike in 1995. 1st Modified qualifying feature – 1. Jeff Aikey, Cedar Falls; 2. Justin O'Brien, West Union; 3. J.D. Auringer, Waterloo; 4. Troy Morris III, Bakersfield, Calif.; 5. Jay Noteboom, Hinton,; 6. Clay Money, Penokee, Kan.; 7. Ethan Dotson, Bakersfield, Calif.; 8. Kyle Brown, Madrid; 9. Chase Rudolf, Norwalk; 10. Chris Palsrok, Sibley; 11. Matthew Meinecke, Jamaica; 12. Chris Abelson, Sioux City; 13. D.J. Shannon, Merced; 14. William Gould, Calera, Okla.; 15. Ryan McDaniel, Olivehurst, Calif.; 16. Ronn Lauritzen. LaPorte City; 17. Cody Knecht, Whittemore; 18. Shane DeMey, Denison; 19. Hunter Parsons, Green bay, Wis.; 20. Ricky Stephan, South Sioux City, Neb.; 21. Scott Simatovich, State Center; 22. Jeff Taylor, Cave City, Ark.; 23. Nick Meyer, Whittemore; 24. Kelsie Foley, Tucson, Ariz.; 25. Keaton Atkinson, Hot Springs, Ark.; 26. Zane DeVilbiss, Farmington, N.M.; 27. Tom Berry Jr., Des Moines; 28. Todd Shute, Norwalk; 29. Troy Morris Jr., Bakersfield, Calif. 2nd Modified qualifying feature – 1. Tim Ward, Harcourt; 2. Jeff Reay, Portland, Mich.; 3. Cory Sample, Winnemucca, Nev.; 4. Richie Gustin, Gilman; 5. Chance Allen, Alma, Mich.; 6. Doug Smith, Lake City; 7. Mike Van Genderen, Newton; 8. Jimmy Gustin, Marshalltown; 9. John Webb, Pauls Valley, Okla.; 10. Jake Pike, Pahrump, Nev.; 11. Bobby Hogge IV, Salinas, Calif.; 12. Steven Bowers Jr., Topeka, Kan.; 13. Cody Thompson, Sioux City; 14. Randy Havlik, Ankeny; 15. Jordy Nelson, Marysville, Kan.; 16. Joel Rust, Grundy Center; 17. Trent Loverude, New Ulm; 18. Gat Leytham Toledo; 19. Mike Petersilie, Hoisington, Kan.; 20. Corey Lagroon, Salina, Kan.; 21. Jesse Skalicky, Fargo, N.D.; ; 22. Robert Avery, Des Moines; 23. Grey Ferrando, Stayton, Ore.; 24. Paul Nagle, Nevada; 25. Chris Mills, Sioux City; 26. Collen Winebarger, Corbett, Ore.; 27. Jeff Larson, Freeport, Ill.; 28. Michael Thing, Campo, Calif.; 29. Todd Stinehart, Waseca, Minn.; 30. Dakota Sproul, Hays, Kan.