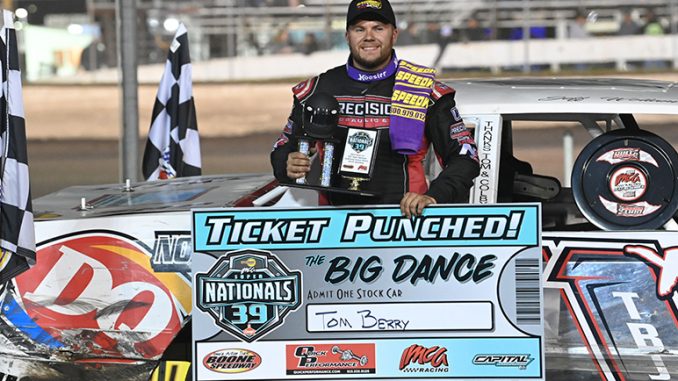 BOONE, Iowa (Sept. 9) – After a couple early cautions, Dylan Thornton set it on cruise and raced to the win in Thursday's first Stock Car qualifying feature at the IMCA Speedway Motors Super Nationals fueled by Casey's. 
Most of the excitement in the second qualifier at Boone Speedway came late, as Tom Berry Jr. and Brandon Czarapata led the 26th starting Jeffrey Larson and 18th starting Mike Albertsen across the stripe in a green, white, checkered conclusion.
Runner-up in his Wednesday Modified qualifier, Thornton was chased the distance by Trent Nolan. Former champion Damon Murty raced from 12th starting to third in just five laps and Donavon Smith earned his 15th straight Saturday start in the division, rounding out the top four.
"This is amazing. I just wanted to make the show," he said. "This is a dream come true.
Four cautions came out late in the second qualifier and contenders Chanse Hollatz and Justin Luinenburg were both among casualties.
Smith is the 2009, 2012 and defending champion; Murty won the 2018 crown and is a 6-time qualifier and Czarapata's 13 career main event starts include the 2013 title. Larson qualified for the seventh time while Thornton, Nolan, Berry and Albertsen all are first-timers.
Top four finishers from both qualifiers advance to the middle row of Saturday's Big Dance.1st Stock Car qualifier – 1. Dylan Thornton, Santa Maria, Calif.; 2. Trent Nolan, Shawano, Wis.; 3. Damon Murty, Chelsea; 4. Donavon Smith, Lake City; 5. David Brandies, Wilton; 6. Curt Lund, Redwood Falls, Minn.; 7. Justin Addison, Meadow Grove, Neb.; 8. Buck Schafroth, Orient; 9. Mike Petersilie, Hoisington, Kan.; 10. Nick Roberts, Des Moines; 11. Clint Forstner, Shiocton, Wis.; 12. Jared Siefert, Luxemburg, Wis.; 13. Joel Rust, Grundy Center; 14. McCain Jennings, Algona; 15. Todd Decker, Edmond, Okla.; 16. JJ Baumli, Lathrop, Mo.; 17. Michael Jaennette, Kellogg; 18. Jay Schmidt, Tama; 19. Dusty Loberger, Oconto, Wis.; 20. Charles Hedges Jr., Tripoli, Wis.; 21. Dan Mackenthun, Hamburg, Minn.; 22. Chad Hertel, Buffalo Gap, Texas; 23. Doug Lockwood, Beaverton, Ore.; 24. David Smith, Lake City; 25. Abe Huls, Carthage, Ill.; 26. Eric Haase, Norfolk, Neb.; 27. Caleb Stone, Lovington, N.M.; 28. Jacob Kofoot, Algona; 29. Randy Brands, Boyden; 30. Chris Palsrok, Sibley. 2nd Stock Car qualifier – 1. Tom Berry Jr., Des Moines; 2. Brandon Czarapata, Pulaski, Wis.; 3. Jeffrey Larson, Lakefield, Minn.; 4. Mike Albertsen, Audubon; 5. Derek Green, Granada, Minn.; 6. Andrew Inman, Mason City; 7. Kellie Drury, Eldora; 8. Josh Daniels, Carlisle; 9. Kyle Everts, Holland; 10. Brett Woznicki, Minot, N.D.; 11. Mike Stapleton, Denison; 12. Brian Blessington, Breda; 13. Don Vis, State Center; 14. Jeremy Christians, Horicon, Wis.; 15. Austin Bouzek, Trenton, Mo.; 16. Chanse Hollatz, Clear Lake; 17. Justin Luinenburg, Reading, Minn.; 18. Johnathon Logue, Logansport; 19. Austin Brauner, Platte Center, Neb.; 20. Brian Cesar, Sheboygan, Wis.; 21. Ryan Bjerkeset, St. Peter, Minn.; 22. Chad Louk, Jefferson; 23. Troy Burkhart, Hays, Kan.; 24. Justin Nehring, Storm Lake; 25. Todd Reitzler, Grinnell; 26. Kyle Brown, Madrid; 27. Jeff Mueller, Albion; 28. Collen Winebarger, Corbett, Ore.; 29. Ethan Dotson, Bakersfield, Calif.; 30. Mike Coel, Pulaski, Wis.