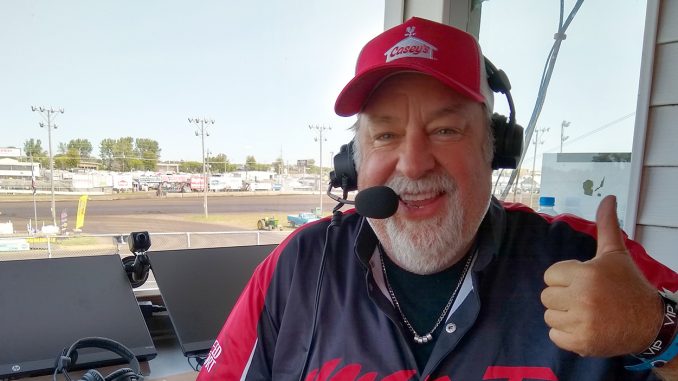 BOONE, Iowa – Wade Aunger's announcing career and his Methanol Moonshine business bring the dynamic Aussie to Boone Speedway and the IMCA Speedway Motors Super Nationals fueled by Casey's for the first time.
Co-creator of exclusively branded Booneshine, bottled in Spencer and available to drivers and fans alike throughout the 39th annual Super Nationals, Aunger's distinct accent and Down Under vernacular entertain Boone Speedway fans and IMCA.TV viewers alike while he splits time between driver interviews in the infield as well as in the 'commentary box' with event announcers Jerry Vansickle and Ryan Clark.
"I forget I'm talking differently. It's only when I look up and I see the confused faces that I remember I don't talk like everyone else," said Aunger, who quickly popularized the phrase Boone Shakalaka. "I love all the people who are part of this event, from the drivers to the TV people to the people who take the tickets. The characters are what make our sport."
"I love working with Jerry and Ryan, too. I've worked with a lot of other announcers and never felt a better connection with any of them," he added.
A resident of Mildura, a city some 12 hours west of Sydney, Aunger grew up going to speedway, an Australian catchall term for dirt track racing, with his father and grandfather.
He made his first visit to the United States in 1992. He returned in 1994, 1995 and 1998, leading tours that stopped at tracks around the Midwest and his first American announcing gig came at Ohio's Millstream Speedway.
Aunger has called on-track action at tracks in many of the 46 states he's visited. Covid threw a monkey wrench in plans to travel home and build his Methanol Moonshine brand in Australia, prompting him to branch out with an Iowa distilled and distributed brand.
After a successful launch at Knoxville, Kris Krug of MyRacePass suggested Aunger introduce Booneshine at the 39th annual Super Nationals.
"I asked 'What's Super Nationals?' Kris introduced me to Jerry and that was that," said Aunger. "
Business will take him back to Knoxville, then to Florida, Pennsylvania and California before Aunger heads home next month.
"I will be back in the USA two or three times a year," he said. "I've told my sons they need to come to Boone Speedway with me. This has changed my life, this place."
An exclusive run of 33 bottles with commemorative labels will be hand-delivered, with each driver receiving a specifically labelled bottle featuring their starting spot.
Fan bottles are available at Fareway and Hyvee in Boone and also at Century Farms Distillery in Spencer.