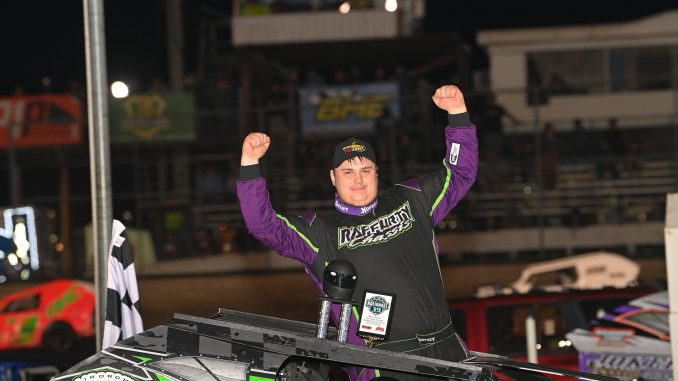 BOONE, Iowa (Sept. 4) – Dillon Raffurty started and ended his night in victory lane while Bryan Zehm ended his own night in the track where he started his racing career.
Both topped STARS Mod Lite qualifying features as the division made its IMCA Speedway Motors Super Nationals fueled by Casey's debut during the Saturday Wild Rose Casino Prelude at Boone Speedway.
Raffurty had won the first race of champions qualifying heat, then started the first qualifying feature from outside row three. Dustin Rude led the first five laps before Andrue Halpain and Clayton Hogie got together in turn three to bring the race to a complete stop.
Blake Wilson took charge on the ensuing restart and had pulled away from the pack before back-to-back yellows with six circuits let in the 25-lapper. Raffurty made his move to the front on the higher line with four laps to go.
"I couldn't go anywhere, then about 15 laps in the track came in and I was able to close the gap," said Raffurty, the national point leader and runner-up to Wilson in their heat race. "It means a lot to be able to win this race. It has a huge effect on where I'll start (the pole) tomorrow night."
The second qualifier ran green the last 24 circuits and Zehm led 21 of them, running much of the way in lapped traffic. Jeromy Wilson ended a distant second.
"I've won some national races before but this is a big one," said Zehm, who will start at the front of the middle row in Sunday's main event. "I always say when you go to a track you race at all the time it's good for two spots."
Ten cars advance to the main event from each qualifier, with the outside row of 10 to be determined during the Sunday program.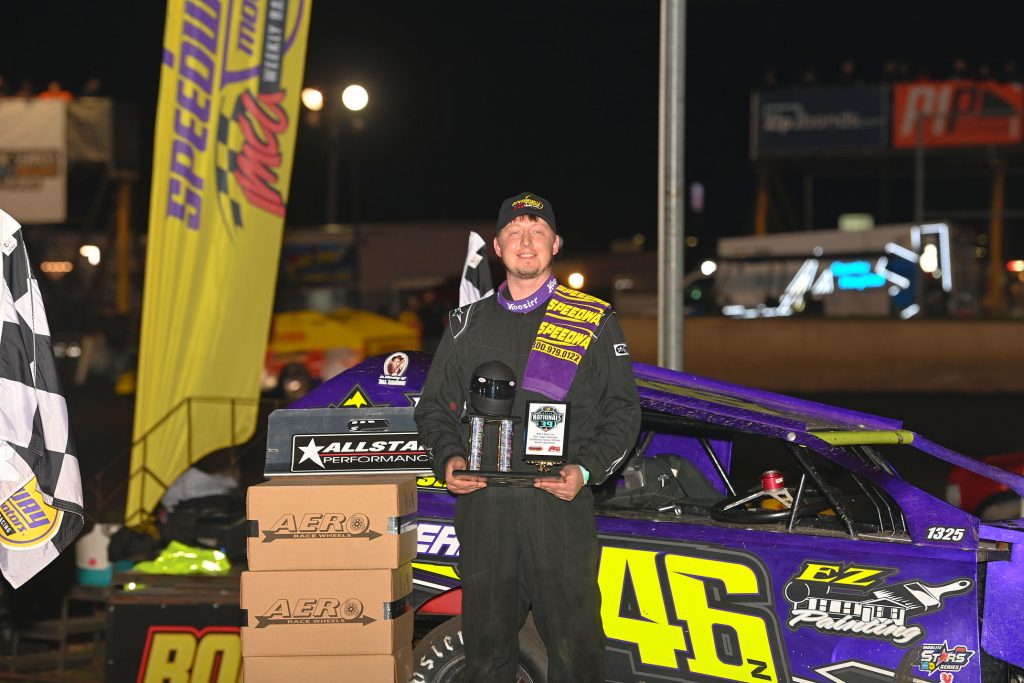 Bryan Zehm was best in Saturday's second Super Nationals qualifying feature for STARS Mod Lites at Boone Speedway. (Photo by Tom Macht, www.photofinishphotos.com)
Qualifying Feature Results
1st qualifier – 1. Dillon Raffurty; 2. Blake Wilson; 3. Josh May; 4. Mike Kennedy; 5. Dustin Rude; 6. Michael Raffurty; 7. Jason Masengarb; 8. Brandon Freeburg; 9. Cory Sonner; 10. Ben Blalock; 11. Cliff Barber; 12. Robert McCollett; 13. Johnny Brown Jr.; 14. Chelsea Ladurini; 15. Dustin Ford; 16. Jeff Stensland; 17. Derek Foster; 18. Jeff Asher; 19. Marlin Hogie; 20. Andrue Halpain; 21. Clayton Hogie; 22. Zac Forster; 23. Randy Bryan; 24. Alex Loveless; 25. Mikade Meyer.
2nd qualifier – 1. Bryan Zehm; 2. Jeromy Wilson; 3. Bryce Vowan; 4. Ed Griggs; 5. Cameron Wagner; 6. Garrett Stonum; 7. Ryan Ayers; 8. Darrick Knutsen; 9. Justin Raffurty; 10. Douglas Byers; 11. Dylan Dunn; 12. Kevin Carl; 13. Nathan Wolfe; 14. Mike Agan; 15. Chad Culp; 16. Thomas Messamer; 17. James Wonick; 18. Dylan Hollingshead; 19. Jonathan Braathun; 20. Justin Kinderknecht; 21. Brandon Staggs; 22. Austin Gray; 23. Dustin Dennison; 24. Matthew Weiss.