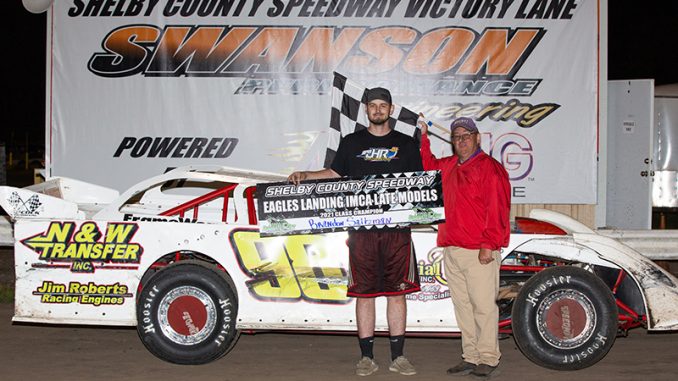 OMAHA, Neb. – A driver who beat the odds just to race raced to the IMCA Sunoco Late Model track title at Shelby County Speedway.
Brandon Saltzman, first diagnosed with glioblastoma, an aggressive form of brain cancer in the summer of 2019, earned that title in dramatic fashion on the Harlan, Iowa, speedplant's championship night Aug. 21.
"My aim this season was to get a track championship," said Saltzman, 23 years old and from Omaha. "It feels amazing … it hasn't clicked yet but I know I'm in the history book. I'm still having a hard time grasping the fact that I'm a track champion."
He'd started the championship night show 11th and drove to fifth before the caution light came on with three laps left. Rotors glowing, Saltzman went to the pits, returned to start at the back of the field and ran the rest of the way with no rear brakes, ending in 10th.
When standings were figured later that evening, he'd edged A.J. Jorgensen and Robbie Jorgensen by all of three points. The championship was especially sweet for Saltzman, his father and crew chief Scott and car owner Ed Kosiski, as they'd seen 2020 title hopes at Harlan end when Brandon's battery cable came off on the final night.
"We thought we'd won it, then we thought we lost it and then we got it again," Scott Saltzman said. "It was quite an emotional ride."
Brandon came out of the go kart ranks with Kale Kosiski and Jacob Hobscheidt, who have remained an extended part of his race team. He ran a crate model a handful of times at the age of 16, then got out of the sport for five years before getting into a Late Model.
His racing career was put on hold when an MRI taken in June of 2019 revealed a tumor in his brain. Once in remission, Saltzman got in a couple races that fall, at I-80 and Junction Motor Speedway.
He learned the cancer, extremely rare to begin with and especially so given his age, had returned in early spring, 2020.
Saltzman has since juggled being a father to two-year-old daughter Penelope with work, maintaining the car, racing and doctor appointments. He takes seven different pills each day to slow the growth of the cancer, which has a survival rate of 25 percent for more than one year; only five percent of patients diagnosed with glioblastoma live more than five years.
Scott directed a round of thanks to Trish Kosiski, Kortney and Micah Brown and Tia Kosiski, who organized a benefit for Brandon in October of 2020, as well as his son's sponsors, notably Imperial Tile of Omaha, which has backed Saltzman since the start of his on-track career.
"The prognosis when Brandon was diagnosed was five years," Scott said. "We're blessed to have made it this long and that he has retained his physical and mental abilities is also amazing."
"He's never complained. He stays determined and just goes for it. The doctors told him to go live is life and have fun. I think racing has given him something to shoot for and now he has a track championship to show for it," he continued. "I was part of 17 track championships and a national championship with Ed Kosiski and this tops all of that. It's good to see good things happen even in bad times."
Saltzman will receive his Shelby County Speedway track championship plaque during a special presentation in October.