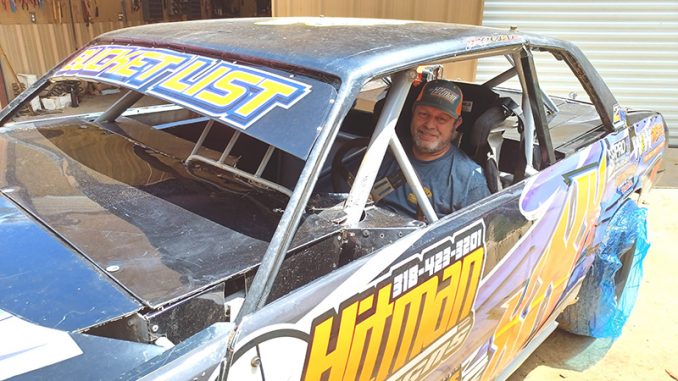 SHREVEPORT, La. – As the visor on Shawn Graham's Stock Car proclaims in big bright letters, racing at the IMCA Speedway Motors Super Nationals fueled by Casey's is on his BUCKET LIST.
The Shreveport, La., driver will make the 13-hour tow to be part of America's Racin' Vacation. While he's watched previous Super Nationals on IMCA.TV, Graham and crew members Tracy Korp, Chris White and Ben McDuff will all be making their first trip to Boone Speedway.
"I'm a Stock Car guy and this is the biggest Stock Car race in the world," he proclaimed. "I bought a car a couple months ago and I'm ready to go. Super Nationals has been on my bucket list."
Graham has raced the last 19 seasons "in everything but a Sprint Car" and followed 2020 Sniper Speed Tour dates in a Smiley's Racing Products Southern SportMod. He'll wheel a 2016 Jet Chassis at Boone for the 39th annual Super Nationals.
"What I enjoy most about IMCA Stock Cars is the equality of the cars and the closeness of the racing," said Graham, who makes his living wrapping race cars as owner of graphics design company Hitman Designs in Shreveport. "The competition in the class is crazy."
Team Graham heads north on Labor Day.
"We want to go race all week long," Graham said. "We just want to be competitive and have a good time. We'll get to take in a lot of racing."
Sponsors backing the no. XXX Stock Car include W&W Timber, WCH Race Engines, Pro1 Transmission, JRP, Summer Grove Auto Care, Bulletproof Tee's, MoBags Shocks, Dirt Defender, Stephenville Starter, Team 15, 2B Construction J & J Motorsports, the Parker Lee Project and TCC Carbs.