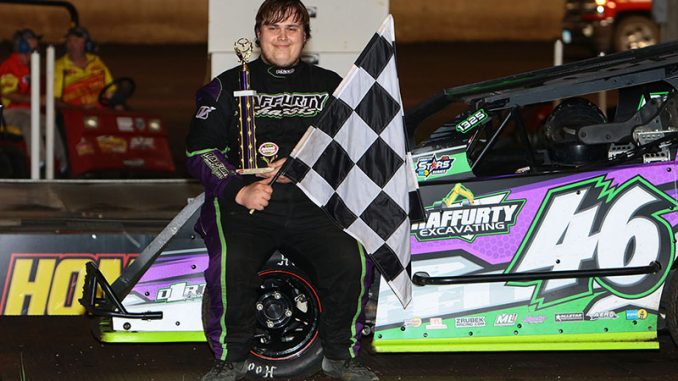 KANSAS CITY, Mo. – Winning races, says Dillon Raffurty, is always fun.
Winning them in a car you helped build is even better.
From Kansas City, Mo., the national STARS Mod Lite point leader already owns 22 feature victories so far this season. He'll be racing for even bigger and better accomplishments in September, starting at the IMCA Speedway Motors Super Nationals fueled by Casey's.
"We started building our own chassis in December of 2020 and once we got it done, we took it to the track to practice and made one minor change," Raffurty said. "Pretty much the way the car was built is the way I've been running it."
Traveling and racing with father David and older brother Mike, both also in national top 20 standings for the division, Raffurty started the season with five straight checkers, then improved on that streak with nine straight checkers from mid-June through mid-July.
His wins have come at eight different tracks in Arkansas, Iowa, Kansas and Missouri.
"I pretty much grew up at the track. My dad has raced these cars since the mid-1990s. He always won a lot of races and I wanted to do it, too," Raffurty said. "This has been an awesome season. We've always raced together and it's fun traveling as a family and what makes it sweeter is that I'm doing it in our Raffurty Chassis."
"So many Raffurtys have raced Mod Lites we don't need a fancy name for the chassis," he added. "We let the car speak for itself."
He was the winner in his sole start at Boone Speedway on July 17, coming from the sixth row.
"Boone is completely different than any other track because of the farming. It's its own animal for sure," Raffurty said. "We went there last year in my old car and ran third or fourth. We went back this season when we had an open weekend at home, started 12th and won."
Another win at Boone, during Super Nationals, and the IMCA national championship are his next objectives.
"Winning big races always means a lot and winning Super Nationals, especially in my own chassis, would be my biggest," said Raffurty, "and the national championship is something I thought I had a shot at when they announced the IMCA sanction."
"The closer we get to the end of the season, the more the points shape up. I think it will go down to the last week of the season," he predicted. "It would mean a lot for us to win the national championship, especially being under the IMCA sanction."