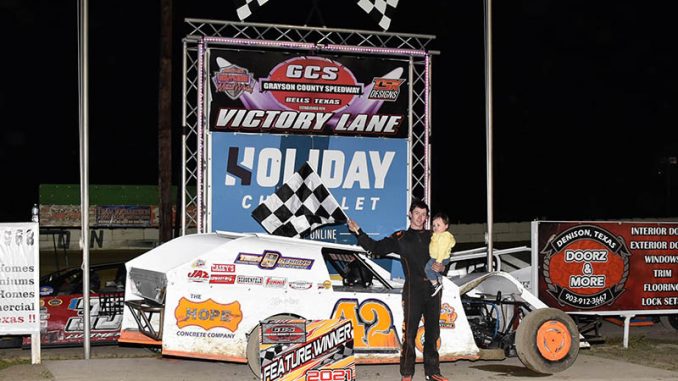 SAVOY, Texas – The much-traveled Beau Collins will travel back to Boone Speedway in September with a goal he knows is easier set than accomplished: Making the Saturday night main event at the IMCA Speedway Motors Super Nationals fueled by Casey's.
From Savoy, Texas, and the defending IMCA Modified track champion at Grayson County Speedway, Collins has spent much of the 2021 season racing around the Razor Chassis South Central Region, complementing Southern Oklahoma Speedway starts with outings at Bells, Abilene Speedway, Boyd Raceway, Heart O' Texas Speedway and Kennedale Speedway Park.
"We like to travel around and not stay tied down to one track It's fun to race at different tracks further away from home and we race with William Gould a lot," Collins said. "If you want to be the best, you've got to race with the best and a lot of the best drivers are in Modifieds."
Collins got his start in go karts at the age of six. He ran mini sprints, junior limiteds – similar to a Southern SportMod with a 305 engine – and then a factory stock and Smiley's Racing Products Southern SportMod before getting his first Modified.
"I'd bought a new factory stock, shocks and springs and took it to William. He started talking about a car he'd built in 2007 that was for sale," Collins said. "I traded my factory stock for my first Modified and that was the car I won my track championship in."
Collins learned from two of the best, former national champion Gould and multi-time regional champion Matt Guillaume, while earning that crown.
"It was pretty exciting," he said. "I got to race with William and Matt and a lot of other really good drivers every night. It was a lot of fun. They're fast so racing with them has helped me get better."
After rolling his first Modified, he's since purchased another Gould-built car, this one he'd seen advertised for sale on Facebook.
That's the ride he'll wheel when he returns to The Original Three WideTM in September, making the trip north with help from season-long sponsors Hope Concrete Company, City Concrete, Gould Race Cars, Nicole's Country Store, Shawna Enterprises and BSB Manufacturing.
"We raced Boone last year and did OK. We ran up front some and we ran in the back some," said Collins. "I'd really like to make the "A" main. With so many good drivers there, I know that will be tough but to go out and beat the older guys is what I'm going to try to do."