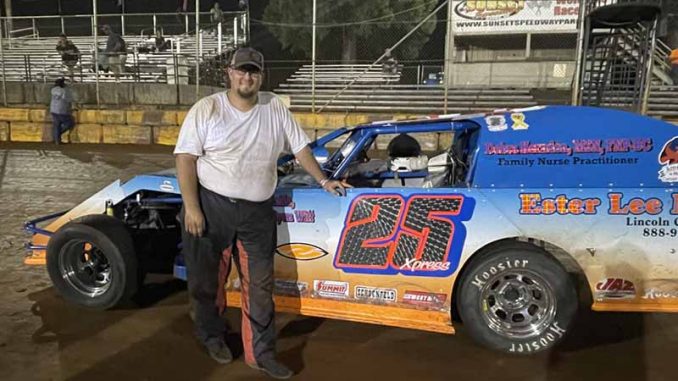 By Ben Deatherage 
BANKS, Ore. (Aug. 12) – A frequent visitor to victory lane at Sunset Speedway Park raced to a huge win Thursday night at the Banks Bullring.
Craig Cassell's fifth win of the season at SSP was also his career first in Wild West IMCA Modified Shootout action and the $1,000 checkers make him eligible to qualify for the Fast Shafts All-Star Invitational.
When the initial green flag flew for the 40-lap main event, Cassell got right to the point and then had no issue with lapped traffic when he approached it.
Toward the end of the race, Cassell began to feel pressure from behind. Collen Winebarger briefly challenged but Cassell kept him in check. Winebarger threw a slider on Cassell with a few laps to go, which Cassell countered with a cross-over maneuver.
Jesse Williamson wound up second, with third going to Winebarger. Aaron Elwess placed fourth, followed by Eston Whisler in fifth.
For the Karl Kustoms Northern SportMods, the 25-lap main event began with Chris Frisbie grabbing the point and holding on to the first-place position until lap six.
Matt Sanders got around Frisbie and took off once in the lead. There were only two stoppages during the race, both of which were in the feature's second half.
Sanders did receive pressure late but kept his composure and beat out second place to the finish line by 0.138 seconds. It was his sixth win of the season for the Brookings racer but first at Sunset.
Keith Foux was a close second over Ryan Peery. The rest of the top five consisted of Dustin Comer and Michael Melton.
The Wild West IMCA Modified Shootout remains at Sunset Speedway Park on Friday, Aug. 13. The evening's race program will be broadcast by IMCA.TV.
Feature Results
Modifieds – 1. Craig Cassell; 2. Jesse Williamson; 3. Collen Winebarger; 4. Aaron Elwess; 5. Eston Whisler; 6. Jeff Lovell; 7. Jerry Schram; 8. Ian Whisler; 9. Jake Mayden; 10. Paul Culp; 11. Curtis Towns; 12. Brenton Schnitzer; 13. Tom O'Gorman; 14. Ray Elwess; 15. John Gaynor; 16. Devon Reed; 17. Greg Walters; 18. Jared Domingos; 19. Jeffrey Hudson.
Northern SportMods – 1. Matt Sanders; 2. Keith Foux; 3. Ryan Peery; 4. Dustin Comer; 5. Michael Melton; 6. Chris Frisbie; 7. Skyler Winebarger; 8. Zach Riehl; 9. Trevor Points.