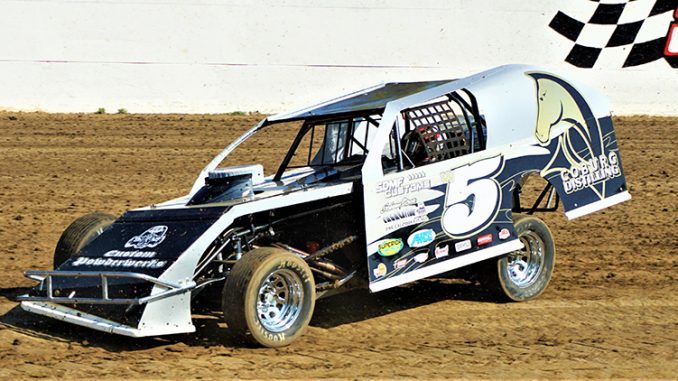 By Aaron Reed
ELMA, Wash. (July 24) – He was "OK" in finishing fifth in Friday's race of champions.
Jesse Williamson was better than that in the Saturday Shipwreck Beads IMCA Modified Nationals main event at Grays Harbor Raceway.
Williamson worked his way up from ninth starting and led the last 15 circuits of the 40-lapper headliner at Elma, earning $2,500 and Fast Shafts All-Star Invitational qualifying eligibility.
"I started working the top line to the middle and kind of passed everybody on top," said Williamson, also the 2009 Shipwreck Beads winner. "It feels pretty good to have this kind of success with a new car (a recently built SDMF Chassis). Every time we go out we keep making adjustments and the car gets even better."
Race of Champions winner Collen Winebarger, Grey Ferrando, John Campos and Brad Martin rounded out the top five finishers.
Campos and Winebarger had set the front row of the main event. Campos took the early lead with Winebarger losing a few positions after going three wide with Ferrando and Tyson Blood.
Winebarger worked his way back into second as Blood battled with Ferrando for third. Campos put some slight distance but the caution flag flew early.
On the restart it was Winebarger taking over the lead, making it a three-wide battle with Campos and Ferrando.
Ferrando took the lead on lap five and started putting some distance. Campos moved back into the second spot as Blood battled Winebarger for third. A three-car tussle for fourth saw Winebarger, Williamson and Blair Shoemaker racing side-by-side.
Williamson worked the high side of the 3/8-mile banked clay oval looking to find something and move forward. Ferrando continued to lead on a long green flag run, getting some distance between second place Campos.
Just as lapped traffic was becoming in view the caution flag flew on lap 13. The restart saw Ferrando continue to lead but it was Williamson, still working the high side, making his way to the front as Blood worked his way by Campos for second.
Blood and Williamson raced side-by-side before Williamson took second. On a mid-race restart, Williamson and Ferrando battled before Williamson took the lead on lap 26.
Ferrando stayed within striking distance, looking to the low side. Lap 32 saw a caution that set up an eight-lap dash to the finish. Williamson timed his restart just right as Winebarger ran the high side looking to get by Ferrando for second. Jesse
Williamson slowly put distance on the rest of the field and went on to pick up the win.
Feature results – 1. Jesse Williamson, 2. Collen Winebarger; 3. Grey Ferrando; 4. John Campos; 5. Brad Martin; 6. Albert Gill; 7. Brenton Schnitzer; 8. Aaron Sheelar; 9. Tyson Blood; 10. Scott Miller; 11. Tom Sweatman; 12. Josh Sheller; 13. Blair Shoemaker; 14. Jason Tole; 15. Jeremy Martin; 16. Craig Moore; 17. Brian Izzi; 18. James Wellshonse; 19. Mike Knox; 20. Zach Fuller; 21. Jerry Schram; 22. Cory Sweatman; 23. Brian Harding; 24. Nick Trenchard.