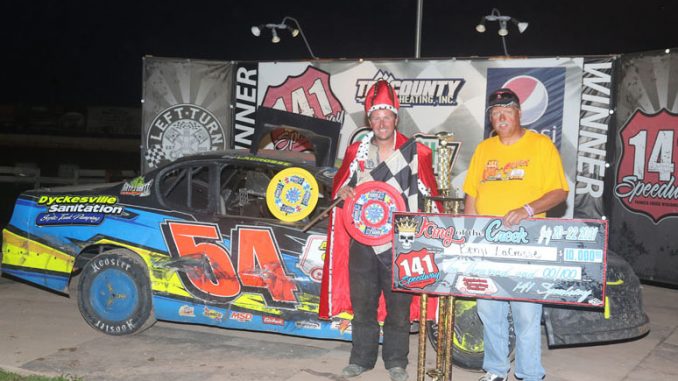 FRANCIS CREEK, Wis. (July 22) – He's won a lot of big races, but the finish to Thursday's King of the Creek 50-lap main event for IMCA Sunoco Stock Cars impressed even Benji LaCrosse.
After making his way from ninth starting in the Thursday finale at 141 Speedway, the defending race winner worked his way into the mix for the front spot on the last lap, beating Mike Mullen to the $10,000 checkers by less than a car length and with Dallon Murty right behind as well.
"I totally did not expect it to come out like this," said LaCrosse, who already owns big dollar wins this season in the Land of Ten Thousand Lakes 10K at North Central Speedway and in an IMCA Modified at The 'Burg Speedway's Eric Van Iten Memorial. "This is at the top of the list for sure."
Murty caught Jay Schmidt for the lead early and led through lap 19 when he gave way to the 10th starting Mullen.
Mullen, winner of the 2019 King of the Creek, began to pull away after the only caution of the contest at midway.
The leader in both national and Junior National Champion point standings, Murty kept Mullen in his sights, slowly bringing LaCrosse along as they made up ground. Mullen and Murty swapped the lead on laps 42 and 43, and a blanket would have covered the front trio much of the final circuits.
LaCrosse finally snuck to the front on lap 50, just outrunning heavy hitters Mullen and Murty.
"I was at the top (of the track) for a long time and realized I wasn't going anywhere and would need to find something if I could," said LaCrosse, already qualified for the B & B Chassis All-Star Invitational. "When I started going down to a lower line, they stopped pulling away."
Trent Nolan was fourth and Abe Huls charged into the top five from the 18th starting spot.
Eighty-eight cars vied in the fourth annual special.
Feature results – 1. Benji LaCrosse; 2. Mike Mullen; 3. Damon Murty; 4. Trent Nolan; 5. Abe Huls; 6. Mike Mashl; 7. Luke Lemmens; 8. Kyle Frederick; 9. Aaron Stolp; 10. Logan Rhode; 11. Tom Berry Jr.; 12. Kevin Hebbe; 13. Derek Moede; 14. Damon Murty; 15. Rod Snellenberger; 16. Jason Czarapata; 17. Shawn Havel; 18. Jay Schmidt; 19. Brandon Czarapata; 20. Todd Augustian; 21. Jared Siefert; 22. Jeff Kropp; 23. Eric Mahlik; 24. Bret Koehler.