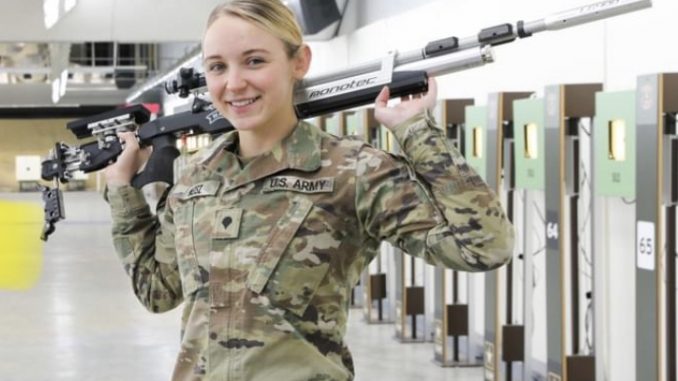 BELGRADE, Mont. – Ali Weisz was 17 years old when she told interviewers her goal was to compete at the Olympics. 
The daughter of Gallatin Speedway promoter Dave Weisz will do just that this week as a member of the U.S. Shooting Team. She'll go for the gold in 10 meter women's air rifle competition, the first event following the opening ceremony on Friday.
"She was in elementary when she brought home a flyer about a BB gun safety program one day and decided it was something she wanted to do," Weisz said. "Ali started with a BB gun in the basement of a gun shop and did that two nights a week."
It was quickly obvious that Ali was a natural and she began competitive shooting and setting records across Montana. A three-time qualifier for the national BB gun championships, she fast-forwarded to precision air rifle and earned an athletic scholarship to Ole Miss, where she was a four-time NCAA qualifier.
The two-time All-American has since traveled across the globe, winning gold at the Pan American Games, silver at the ISSF World Cup New Delhi and bronze in NCAA competition. Twenty-six years old, she's now a shooter and instructor at the United States Army Marksmanship Unit at Fort Benning, Ga.
"When Ali started shooting at a bullseye, each shot was scored from 10 down on paper targets," said Weisz, the first IMCA promoter with a daughter for an Olympian. "She shoots down range and with an open site and it's so much more competitive."
"It's scored electronically and a dead-on perfect shot is 10.9 points, then 10.8 and down by tenth's," he explained. "It's so competitive that if you don't average 10.5-10.6 in your 60 shots, you're not going to make the finals."
Covid-19 protocols prevent family members from traveling to Tokyo. Weisz will keep up with results as best as possible over the Internet and by messaging Ali.
"She set her goal when she was little and stuck with it. I told her to go to Tokyo and enjoy the experience. She told me she was going there to win," he said. "Ali started this journey many years ago. She missed out on a lot of things, especially when she was in high school, to do this. I'm extremely proud of her."