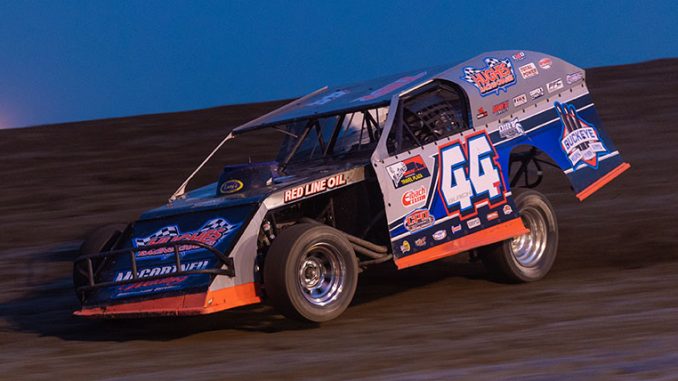 By Rebecca Rattei 
WILLISTON, N.D. (July 13) – Tanner Black saw his string of tough outings end Tuesday night with his career-first Corral Sales Dakota Classic IMCA Modified Tour win at Williston Basin Speedway.
He swapped the lead with Tim Ward in the green, white, checkered conclusion to the $2,000 to win main event.
"We've struggled really bad this week," said Black, who had 13th, 20th and 26th place finishes to show for three tour starts leading into Williston. "We got a better draw this time, had a good heat race and were able to get into the redraw.
Dominic Ursetta had drawn the pole and quickly pulled away from the field quickly, but Black found the fast line up top and passed Ursetta for lead seven laps in.
Heavy lapped traffic allowed a number of challengers to stay close and a couple late-race cautions helped the eighth starting Ward make his charge to the front.
After Ward made his way to the front, Black again used the higher line to get the lead, then drove to the checkers on the inside groove.
"It felt good. I've been coming here for three years so I know how hard it is to win on this tour," he said. "It feels pretty good to be able to win."
Ursetta, 19th starting Cody Laney and 2019 tour champion Tom Berry Jr. rounded out the top five.
After going nearly two years between tour wins, Dalton Flory needed less than 24 hours to collect his second IMCA Sunoco Stock Car tour checkers in as many starts.
He followed the Monday victory at Nodak Speedway with a flag-to-flag run on the $1,000 to win 20-lapper. Jake Nelson and Kody Scholpp rounded out the top three.
The race ended green, white, checkered and marked Flory's fifth win in six Williston shows this year.
"I just protected the bottom and hit my marks," the former tour champ said. "If someone was going to beat me, they were going to have to do it on the outside."
"We've had an amazing season going at Williston," Flory added.
Black was already on the Fast Shafts All-Star Invitational ballot while Flory was eligible to qualify for the B & B Chassis All-Star Invitational.
Feature Results
Modifieds – 1. Tanner Black; 2. Tim Ward; 3. Dominic Ursetta; 4. Cody Laney; 5. Tom Berry Jr.; 6. Steven Pfeifer; 7. Dakota Sproul; 8. Jake McBirnie; 9. Zachary Madrid; 10. Justin O'Brien; 11. Kelsie Foley; 12. Troy Cordes; 13. Chris Schroeder; 14. Kollin Hibdon; 15. Greg Gustus; 16. Eddie Belec; 17. Casey Arneson; 18. Kyler Jeffrey; 19. Jaxon Saathoff; 20. Collen Winebarger; 21. Ethan Dotson; 22. Drew Christianson; 23. Bricen James; 24. Jeff Taylor; 25. Lucas Lamberies; 26. Ricky Alvarado; 27. Travis Hagen; 28. Tripp Gaylord.
Stock Cars – 1. Dalton Flory; 2. Jake Nelson; 3. Kody Scholpp; 4. Mike Swallers; 5. Angel Munoz; 6. Zachary Madrid; 7. Rob Stenvold; 8. Travis Ulmer; 9. Hunter Cavanagh; 10. Joren Boyce; 11. Adam Goff; 12. Gabriel Deschamp; 13. Jason Kniffen; 14. Payton Bellm.