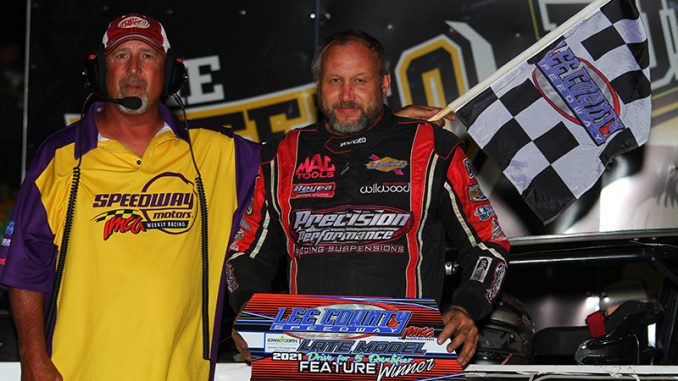 By Brian Neal
DONNELLSON, Iowa (July 2) – Dave Eckrich proved the fastest in a field of 27 IMCA Sunoco Late Models, earning $1,000 for his Friday night Iowa Corn Growers Association Drive For Five qualifying feature win.
Ron Klein and Eckrich drew front row starts for the 25-lapper, with Klein out ahead of Eckrich and Jay Johnson after a couple early restarts.
Eckrich used his momentum off the top of the track coming out of turn four to take the lead on lap two. The pace Eckrich set put him into lapped traffic on lap nine, which allowed Klein, Gary Webb and Johnson to close in.
Disaster struck fourth running Johnson on lap 11 as he spun under the flag stand and collected eighth running Logan Duffy. On the restart, Eckrich jumped back out front, with Klein and Webb close behind. Then just after the lap was scored complete, Kevin Peters spun in turn 4 and collected Ray Raker to bring out the caution.
Eckrich again grabbed the lead on the restart with Tommy Elston, who started eighth, working his way to the runner-up spot. Five laps later, lap 18, the final caution of the race appeared as a tire in turn 2 was clipped onto the track to bring out the yellow.
On the restart Eckrich moved back out front with Klein getting back by Elston for second. While Klein and Elston battled for second, Eckrich went on to claim the $1,000 win. Klein won the battle for second, Elston was third, Chuck Hanna was fourth with Andy Nezworski fifth.
Michael Long, already on the Fast Shafts All-Star Invitational ballot, won the Drive For Five feature for IMCA Modifieds and $1,000.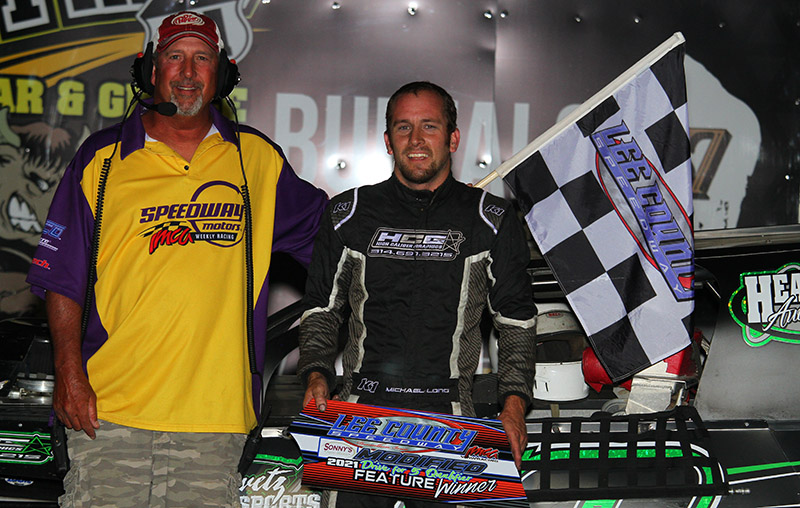 Michael Long collected another Drive For Five IMCA Modified feature win at Lee County Speedway Friday night. (Photo by MF Photography)
John Oliver Jr. was the IMCA Sunoco Stock Car winner. Tanner Klingele won another Karl Kustoms Northern SportMod feature and Jason Ash topped a caution-free Mach-1 Sport Compact main.
Feature Results
Late Models – 1. Dave Eckrich; 2. Ron Klein; 3. Tommy Elston; 4. Chuck Hanna; 5. Andy Nezworski; 6. Gary Webb; 7. Dustin Griffin; 8. Mark Burgtorf; 9. Sam Halstead; 10. Dennis Woodworth; 11. Chris Horn; 12. Jacob Waterman; 13. Ron Boyse; 14. Matt Strassheim; 15. Darin Weisinger Jr.; 16. Mike Haines; 17. Jay Johnson; 18. Jill George; 19. Robbie Jorgensen; 20. David Jorgensen; 21. Ray Raker; 22. Brandon Rothzen; 23. Kevin Peters; 24. Logan Duffy; 25. Nick Marolf; 26. Kevin Miller; 27. Matt Ryan.
Modifieds – 1. Michael Long; 2. Cayden Carter; 3. Denny Eckrich; 4. Mark Burgtorf; 5. Brandon Dale; 6. Chris Zogg; 7. Bill Roberts Jr.; 8. Eric Barnes; 9. Jeff Waterman; 10. Dustin Smith; 11. Scott Boles; 12. Austin Howes; 13. Blake Woodruff; 14. Daniel Fellows; 15. Levi Smith; 16. Cody Bowman; 17. Fisher Reese; 18. Adam Shelman; 19. Dennis LaVeine; 20. Steve Picou.