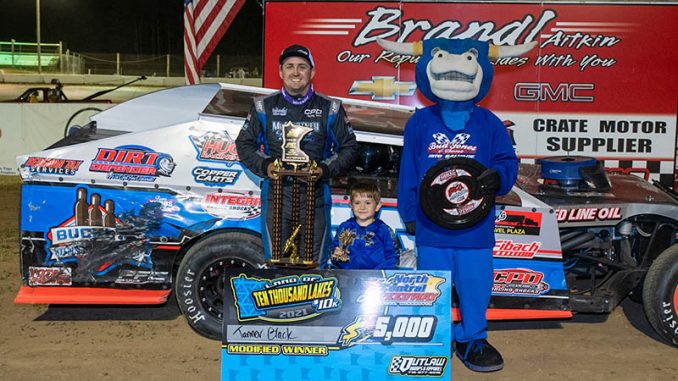 BRAINERD, Minn. (June 25) – Tanner Black stayed smart and led every lap of North Central Speedway's $5,000 to win Land of Ten Thousand Lakes 10K IMCA Modified feature.
Jordan Grabouski stayed fast and doubled his winning margin to almost a full car length, earning a second $5,000 IMCA Sunoco Stock Car victory in as many nights during a Friday show that brought 220 IMCA entries from across the U.S. and Canada to Brainerd.
Making his first visit to North Central, Black led all 30 laps from the pole in a Modified headliner that ran green to checkers, staying patient while working through traffic and beating runner-up Tim Ward to the stripe by more than four seconds.
"I tried to be smart, stay on the rubber and make things happen," Black said after his IMCA career-best paying win. "I had never raced there before and it took a couple laps in my heat to figure out (turns) three and four because they're just shaped a little different."
"We had to guess a little on the gear, too. I guess we got lucky."
Jake McBirnie, two-time defending track champion Aaron Johnson and Mike Mullen completed the top five after Jeff Patchen was disqualified from third in post-race tech for a rev limiter violation.
Already on the Fast Shafts All-Star Invitational ballot, Black is from Otis, Kan., and had been a DNF in the Thursday Land of Ten Thousand Lakes 10K main event at Princeton.
"There were a ton of good cars here and a lot of them didn't qualify," he said. "When you do get a win like this, it feels really good because you don't know when you're going to get the next one."
Grabouski won in dramatic fashion for a second straight night, beating Brandon Beckendorf to the Stock Car checkers this time. He'd been the winner at Princeton by half a car length, earning a B & B Chassis All-Star Invitational start in the process, and won by nearly a full car length this time.
Dylan Thornton led the first seven laps before Grabouski sped by. Beckendorf was running second and Eric Mahlik lurked close behind before the only caution of the race waved with nine to go in the 30-lapper.
The front two were side-by-side when the white flag came out. Grabouski pulled out another thriller, ahead of Beckendorf, Mahlik, Devin Snellenberger and 13th starting Dallon Murty.
And Tim Bergerson led every time around the track in the 25-lap main event for Karl Kustoms Northern SportMods, earning $2,500.
He had Jayden Schmidt looking inside and defending track champ Jacob Hagemann looking outside after a lap 18 restart but held both in check.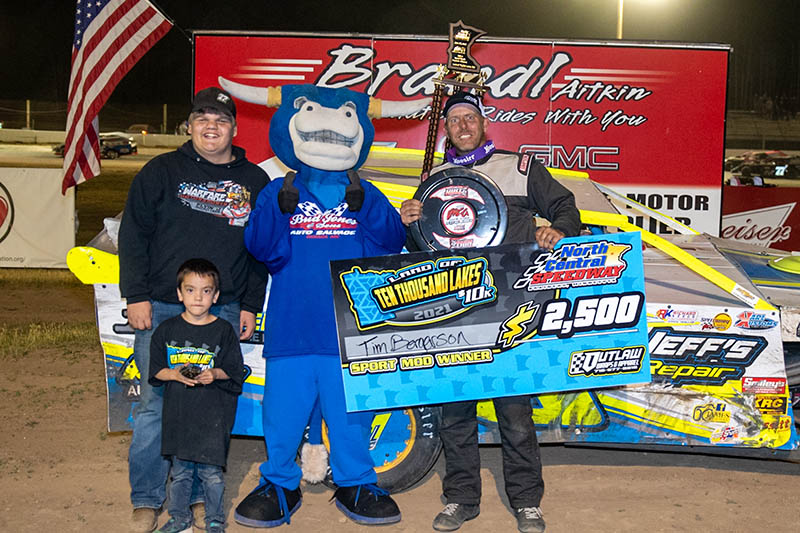 Tim Bergerson banked $2,500 following his Karl Kustoms Northern SportMod Land of Ten Thousand Lakes 10K win at North Central Speedway. (Photo by Blake Christenson)
Hagemann took over second with six laps left. Schmidt, 11th starting Shane Paris and 13th starting Justin Jones rounded out the top five. 
Eighty-six Modifieds were in the house Friday, along with 74 Stock Cars and 60 Northern SportMods.
Feature Results
Modifieds – 1. Tanner Black; 2. Tim Ward; 3. Jake McBirnie; 4. Aaron Johnson; 5. Mike Mullen; 6. Justin Oestreich; 7. Collin Thirlby; 8. David Brown; 9. Terry Phillips; 10. Matt Gilbertson; 11. Kelly Shryock; 12. Lucas Lamberies; 13. Ethan Braaksma; 14. John Hansen; 15. Marcus Yarie; 16. Cayden Carter; 17. Shawn Fletcher; 18. Jacob Dahle; 19. Dan Menk; 20. Wyatt Block; 21. Billy Kendall III; 22. Chuck Olson; 23. Brandon Schmitt; 24. Tripp Gaylord; 25. Kyle Brown.
Stock Cars – 1. Jordan Grabouski; 2. Brandon Beckendorf; 3. Eric Mahlik; 4. Devin Snellenberger; 5. Dallon Murty; 6. Dylan Thornton; 7. Kenneth Richards; 8. Elijah Zevenbergen; 9. Kyle Vanover; 10. Derek Brown; 11. Kyle Falck; 12. Benji LaCrosse; 13. Robert Waechter; 14. Troy Jerovetz; 15. Derek Green; 16. Brent Uecker; 17. Troy Burkhart; 18. Luke Lemmens; 19. Chanse Hollatz; 20. Kyle Brown; 21. Damon Murty; 22. Dustin Larson; 23. Jared Siefert; 24. Abe Huls.
Northern SportMods – 1. Tim Bergerson; 2. Jacob Hagemann; 3. Jayden Schmidt; 4. Shane Paris; 5. Justin Jones; 6. Craig Domer; 7. Hunter Longnecker; 8. Logan Anderson; 9. Brandon Hines; 10. Adam Bohlman; 11. Timothy Warner; 12. Jeff Steenbergen; 13. Jason Vejtruba; 14. Cam Reimers; 15. David Siercks; 16. Chris VanMil; 17. Cole Czarneski; 18. Vince Corbin; 19. Colby Fett; 20. Troy Jordan; 21. Jared Boumeester; 22. Miles Morris; 23. Jake Sachau; 24. Luke Krogh.