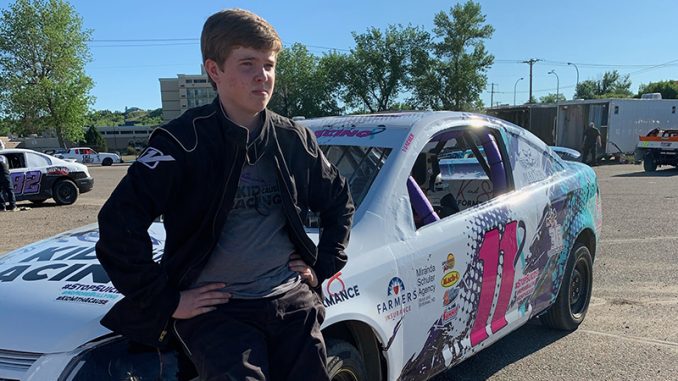 MINOT, N.D. – While he's racing to win, Aiden Wagner is also racing toward an even more important goal.
The IMCA Mach-1 Sport Compact driver captains the Kid With A Cause team, donating his race winnings and sponsorship funds to the Sources of Strength suicide awareness and anti-bullying peer leader group at his hometown Minot High School.
"I wanted to do something that would help some of my friends and classmates," said the soon to be 16-year-old, noting the extra impact the Covid-19 pandemic has had on teenagers. "A lot of people have come down to the pits to thank me. It impacts a lot of people."
He started Kid With a Cause during his short rookie season and raised $700.
The $1,000 he's already donated this year includes the $310 bounty he took home for snapping Ken Sandberg's 10-race winning streak during the Ironman special at Dacotah Speedway.
"I wanted to try and double what I raised last year and we're well on the way to doing that," said Wagner, noting that any monetary donations and 20 percent of all gear sales through his kidwithacauseracing.com website go to Sources of Strength as well. "It makes me feel good to know I'm helping friends and classmates."
All his friends and race fans can see his Kid With a Cause-themed car at the annual Out of the Darkness suicide awareness walk in Minot in September.
"I've already gotten a lot of pretty big positive feedback," Wagner said. "A lot of people have already come by to get their picture taken with the car."
After a learning first-ever racing season, he's already gotten his own picture taken beside the car – in victory lane – six times – this year.
"My dad and I would go to the races at Nodak Speedway and he asked if I'd like to race, too," said Wagner, whose other sporting interests include soccer and hockey. "As soon as he asked, I told him yes, get me in a car."
"The biggest challenge was believing in my car and my abilities," he continued. "When we got our first win at Thunder Mountain Speedway (on May 15) it was pretty nerve racing, and it was pretty exciting."
Victories at Bottineau later bookended checkered flag runs at Minot and Mandan during a late May, early June four-race win streak.