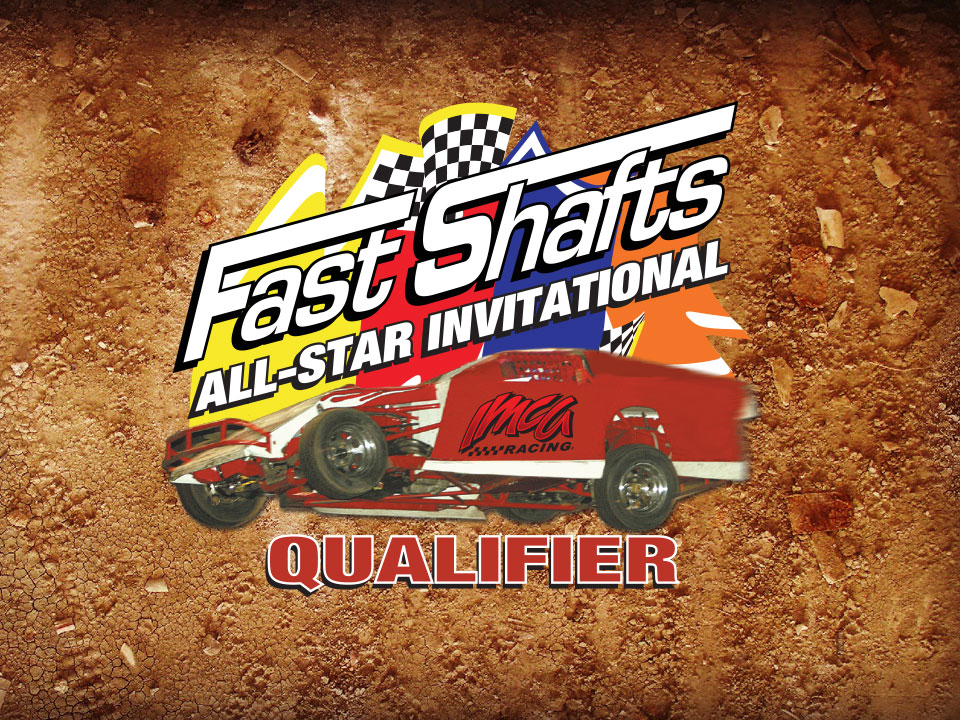 VINTON, Iowa – Another 18 IMCA drivers have raced their way onto the Fast Shafts All-Star Invitational ballot by winning feature events that paid $1,000 or more.
Jon DeBenedetti topped Southern Oregon Speedway's Roger Haudenshild Tribute. William Gould, Jeff Taylor and Fred Wojtek all were All Star Shootout winners.
John Hansen paced a Rudy Yeager Memorial main at Sweetwater Speedway and Michael Long was a Lee County Speedway Drive For Five winner.
John Morris Classic winners at Arizona Speedway were Zachary Madrid and Ryan Roath. And Cody Thompson ruled Park Jefferson Speedway's Memorial Day Duels.
Winners of qualifying features at weekly race programs were Chris Abelson at Clay County Speedway and at Crawford County Speedway; Jerry Dedrick at Independence Motor Speedway; Shane DeMey at Crawford County Speedway; Brenten DeYoung and Jeffrey Reay, both at Thunderbird Raceway; Logan Drake at Bakersfield Speedway; Dennis LaVeine at 34 Raceway; Jake Nightingale at Dodge City Raceway Park; and Johnny Whitman at Shawano Speedway.
Drivers winning qualifying events who were already on the ballot included Chaz Baca, Brandon Beckendorf, Tanner Black, Cayden Carter, Kellen Chadwick, Sawyer Crigler, Ethan Dotson, Tripp Gaylord, Matt Guillaume, Kollin Hibdon, Jeremy Mills, Jake Pike, Kelly Shryock, Todd Shute, Joel Rust, A.J. Ward and Tim Ward.
The 125 All-Star Invitational eligible drivers are
Chris Abelson, Jeff Aikey, Austin Arneson, Casey Arneson, Chaz Baca, Eric Barnes, Brandon Beckendorf, Eddie Belec, Chad Bennett, Tom Berry Jr., Tanner Black and Cody Blixt.
Steven Bowers Jr., Ethan Braaksma, John Campos, Cayden Carter, Chris Carter, Kellen Chadwick, Ty Clemens, Sawyer Crigler, Nick DeCarlo, Jon DeBenedetti, Jerry Dedrick, Casey Delp and Shane DeMey.
Shane DeVolder, Brenten DeYoung, Spencer Diercks, Ethan Dotson, Tommy Dove, Logan Drake, P.J. Egbert, Chris Elliott, Shawn Fletcher, Troy Foulger, Tripp Gaylord and Mike Goodson.
William Gould, Jordan Grabouski, Kevin Green, Matt Guillaume, Michael Hale, Chase Hansen, John Hansen, Kyle Heckman, Toby Herring, Ryan Heskett, Kollin Hibdon, Jacob Hobscheidt and Bobby Hogge.
Bobby Horton, Jerry Hunt, Mitchell Hunt, Nate Jones, Billy Kendall, Austin Kiefer, Corey Kortum, Kyle Kudick, Cody Laney, Jeff Larson, Dennis LaVeine and Cody Leonard.
Jimmy Lipke, Michael Long, Wade Lumsden, John McCaul, Ryan McDaniel, Zachary Madrid, Dalton Magers, Lance Mari, Eric Mass, Nick Meyer, Chris Mills, Jeremy Mills and Chris Morris.
Troy Morris III, Shawn Natenstedt, Jake Nightingale, Jake O'Neil, Jim Pettit, Jake Pike, Max J. Quint, Jeffrey Reay, Clint Reichenbach, Ryan Roath, Nick Roberts and James Roete.
Jesse Rogotzke, Anthony Roth, Joel Rust, Jim Sandusky, Robby Sawyer, Ken Schrader, Marlyn Seidler, Clay Sellard, Kelly Shryock, Todd Shute, Riley Simmons and Chris Simpson.
Casey Skyberg, Brad Smith, Jesse Sobbing, Dakota Sproul, Jeff Stephens, Shawn Strand, Matt Szecsodi,
Regan Tafoya, Bart Taylor, Jeff Taylor, Cody Thompson, Dylan Thornton and Ricky Thornton Jr.
And Marcus Tomlinson, Gary VanderMark, A.J. Ward, Tim Ward, John Webb, Jon White Jr., Justin Whitehead, Johnny Whitman, Jerry Wilinski, Collen Winebarger, Fred Wojtek, Austin Wonch and Justen Yeager.