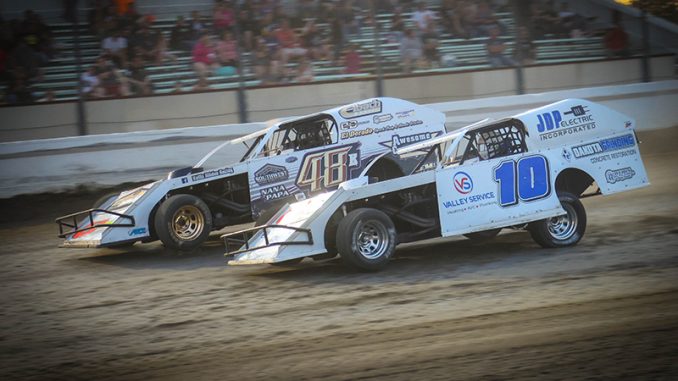 JAMESTOWN, N.D. (June 12) – Another IMCA Modified feature win at another North Dakota track put another $2,222 in Kollin Hibdon's racing account Saturday night. 
Hibdon led all 25 laps of Jamestown Speedway's second annual Don Gumke Racers' Memorial, leading the way through lapped traffic the first 21 circuits and then outrunning teammate Casey Arneson after a caution with four laps left.
"I've had the chance to get into the Arneson program and come to some nice, slick tracks that I've never been to before," said the 17-year-old from Nevada, who'd taken the win and $5,000 top prize at last weekend's 100-lap Iron Man special at Dacotah Speedway. "I've had a lot of really good mentors in my very few years of racing and have been in the lucky position of being able to pick myself up a couple (wins). I'm lovin' it."
Rusty Kollman, Dave Shipley and Crist Pittenger completed the top five.
Already on the Fast Shafts All-Star Invitational ballot, Hibdon won both his qualifying heats and started outside defending race winner Austin Arneson on the front row.
Austin Arneson and Casey Arneson ran 2-3 behind Hibdon before Austin went too high and off the top of the track racing for the lead to bring out the only caution of the race.
"Starting on the front row was a blessing," Hibdon said. "My main goal was to get the jump and get out to the lead, and we made it happen."
"I wasn't sure how much of a lead I had. I knew lapped traffic was heavy and races are easy to lose in lapped traffic," he added. "After the restart, I knew I had to keep my head on straight, hit my marks and not make any mistakes."
Casey Arneson made his way forward from seventh starting, Pittenger from 10th.
Gumke and other local drivers who passed away recently were remembered throughout the evening.
"I never had the opportunity to meet Don but I've heard a lot of great things about him," said Hibdon. "This was a great race to win. They put on a terrific show tonight."
Hibdon saw his luck do a 180 from opening night at Jamestown, when his engine expired on the first lap of his heat race.