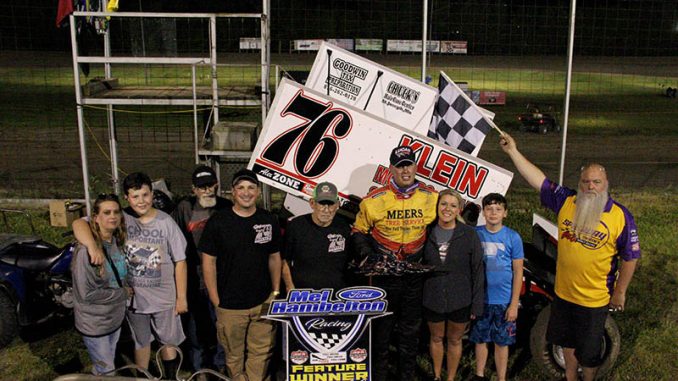 OSBORN, Mo. (June 4) – Nineteen IMCA RaceSaver Sprint Cars were in attendance for Friday's POWRi Drive to Zero United Rebel Sprint Series debut at Missouri's US 36 Raceway and Jay Russell was the $1,000 Budweiser Shootout winner. 
Russell and Jack Potter set the pace for the 25-lap feature, with Russell powering to the lead before a trio of early cautions.
Excellent side-by-side action followed amongst the top three cars, as Stuart Snyder slid to the high side with Russell and Kenny Potter just to the inside while Ty Williams began his march forward, moving into fourth.
Potter and Snyder dueled for the runner-up position behind Russell as Williams and Mike Houseman Jr. challenged for fifth. Potter moved to second and began a charge on Russell before taking the lead.
Snyder moved into second around the high side, but not for long as Russell motored back by Snyder and Potter.
Lapped traffic bunched the top six positions back together, all within striking distance for a challenge to the lead. In traffic, Snyder got back to second as Russell went on to win the barnburner. Potter was third, Houseman fourth and Williams fifth.
Feature results – 1. Jay Russell; 2. Stuart Snyder; 3. Kenny Potter; 4. Mike Houseman; 5. Ty Williams; 6. Kyler Johnson; 7. J.R. Topper; 8. Jack Potter; 9. Jacob Dye; 10. Chad Salem; 11. Josh Poe; 12. Lane Alan Cunningham; 13. Camdin Couch; 14. Lindrick Willis; 15. Kevin Dye; 16. Dakota Osborne; 17. Kevin Frisbie; 18. Chad Jerrett; 19. Conner Atkinson.