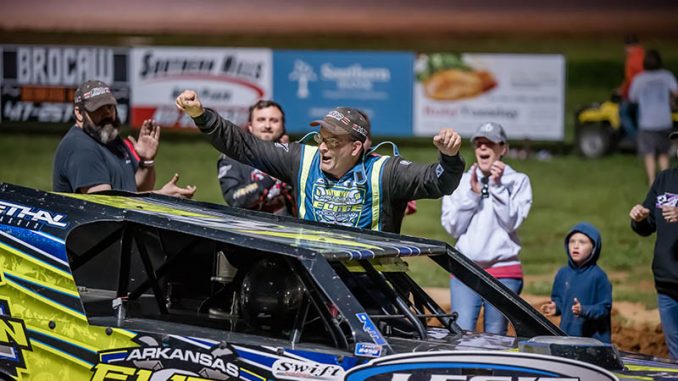 SEARCY, Ark. – Mark Norris was so discouraged by his lack of success in his first IMCA Modified season that he thought about quitting.
After the wins and track championships did start to come, he stepped away from dirt track racing for an unheard of dozen seasons to focus on building his Snap-On Tools franchise.
Seven years later, on a Friday night at Legit Speedway Park, Norris became the first driver from Arkansas, and the 62nd in division history to reach the 100 career win mark.
"It was like a Cinderella weekend," said Norris, from Searcy and the winner on May 28, opening night of the Scrappin' 40 special at West Plains. "We brought campers and stayed. Two of my grandkids were there and it was one of the first times they were at the track. It was pretty emotional."
"It was a special show and good competition. To be able to do this on the Memorial Weekend with my family there was special. This is a goal I set and I've been working so hard to get it. All racers have to work hard to do something like this," he continued. "My wife Linda and I have been married for 16 years now and she has supported me in both business and in my quest to get the 100th. I truly believe a supporting wife has a lot to do with success in racing along with business."
A first-time feature winner in 1993, Norris totaled a career best 18 checkers and raced to the first of what became eight career track championships two years later.
"I ran a full year without a win, got discouraged and almost quit," he admitted. "Batesville has been my home track, the ultimate place I stuck at for years, and I chased Rex Merritt and Mike Steinmetz for a lot of them. They were the two locally you had to beat."
The three-time qualifier for the main event at the IMCA Speedway Motors Super Nationals fueled by Casey's turned his attention to business for more than a decade, beginning in 2003.
"I never went to the races. I completely sold out and never even went to the track," Norris said. "Then I went to I-30 to watch and my son Clay talked me into getting back into a race car."
His 100th win was Norris' 20th since returning to the sport, and first since late last July.
"There are some good racers around here. Running with these guys keeps you working. It's a challenge for sure," said Norris, racing a more limited schedule while following younger son Cameron's local travelling baseball team. "I've run second behind Jeff or Peyton Taylor I don't know how many times."
He races with Clay now and hopes to get Cameron started in an entry level class at Legit next year.
"I'll keep my car but will focus on Cameron. I'm not going to quit, said Norris, who turns 57 in July. "Our trailer will hold two cars. When Cameron races, I won't. I'll go along and help."
Norris is the first IMCA Modified driver to reach 100 wins this season.