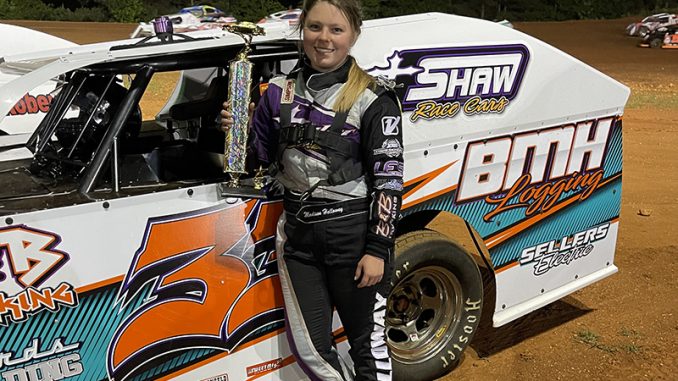 SHERIDAN, Ark. – Getting her first IMCA Modified feature win was priceless.
The reaction from her family and crew was even bet­ter.
Madison Holloway led all 25 times around the track in winning the May 8 main event at Diamond Park Speedway, winning not only for the first time in her career but in her first start of the 2021 season.
"It was kind of surreal," said Holloway, who will start her final year in the pediatric nursing program at the Uni­versity of Central Arkansas in Conway this fall. "I was pumped, but it wasn't until my family and crew got to my car and seeing their faces when it all kicked in. That was the best part for me."
She'd drawn the fourth starting spot and stayed in front through "seven or eight" re-starts before taking the much anticipated checkers.
"I just told myself to stay calm and hit my marks," Holloway said. "I knew I had the car to win. It was a matter of keeping my mistakes to a minimum, hitting my marks and staying calm."
The third generation driver followed grandfather Billy and father Brian into the sport and was all of nine days old when she was bundled up for her first dirt track race.
When Holloway's turn to race came, she ran in a front wheel drive 4-cylinder class and then a go-kart before mov­ing into a Modified.
"I couldn't get enough of it," said the competitive Holloway, who'd been a senior captain on a cheerleading squad that won two na­tional and three state championships during her Sheridan High School career. "We dominated in the 4-cylinder and go-kart and decided it was time to get into a Modified."
She's been in a Shaw Chassis since Day One in the division and shares her success with former IMCA Speed­way Motors Super Nationals fueled by Casey's champion Jeff Taylor and Marlene Mosley at Shaw.
"We got together with Jeff in 2019. He's one of the main reasons why I'm where I am today. He never gave up on me," Holloway said. "It's been a hard learning curve, I am not going to lie about that. When we walked into Jeff's shop he said it would be a seven year learning curve and he could knock two years off. This is our fifth year. The big­gest difference has been our consistency."
"Marlene has been our go-to person at Shaw," she added. "She goes out of her way for us. She really believes in me."
Boyfriend Lucas Sellers helps Brian Holloway crew and grandparents Billy and Marsha help sponsor the 33M car, which will be a regular at Batesville Motor Speedway and Legit Speedway Park this season.
"What I like best about racing a Modified is the chal­lenge," Holloway said. "I get to race with a lot of the best drivers around, especially at Batesville. You've got to race with the best to be the best."